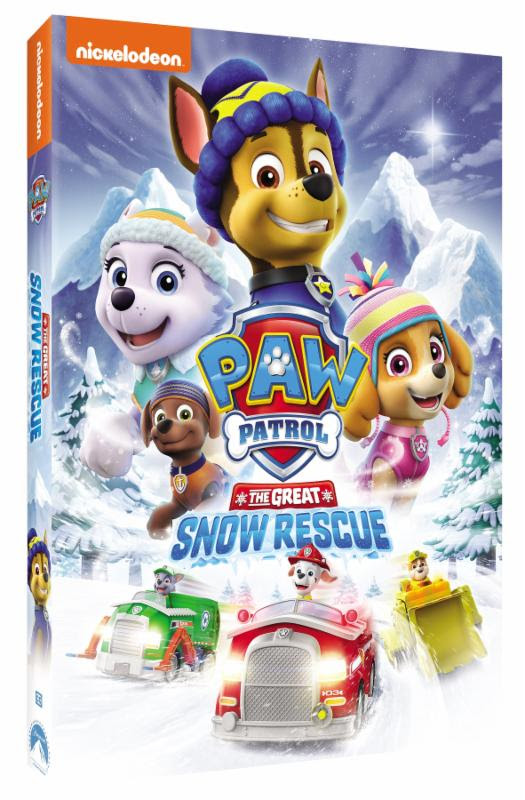 Paw Patrol fans get excited!! A new movie: The Great Snow Rescue is coming to DVD October 24!!! My kids LOVE Paw Patrol and so I know they are looking forward to the release on this new movie.
Fans can join the heroic pack of rescue pups as they work together to save the Adventure Bay Snow Show, help a sleepwalking bear, rescue penguins and more.
In addition to this movie, Nickelodeon Home Entertainment is also including a plush zipper-pull for their backpack! There are additional toys available for purchase as well.
There are a lot of fun episodes on this new movie.
The Pups Winter Wonder Show – The Adventure Bay Snow Show is in danger of being a no-show when Mayor Humdinger escapes with the feature act, Cap'n Turbot's performing penguins. It's up to the PAW Patrol to return the penguins so that the show can go on.
Pups Save a Sleepwalking Bear – The pups need to get a sleepwalking bear back home before he wakes up.
Pups Save Jake's Cake – Ryder and the pups help get a surprise birthday cake up to Jake's cabin.
Pups Save a Teeny Penguin – When Everest and Jake try to rescue a little penguin, they wind up floating out to sea on a homemade bridge.
Pups Save a Wild Ride – The PAW Patrol must come to the rescue when Alex and Daring Danny X snowboard near Risky Ridge.
Pups and a Whale of a Tale – While on a whale watching expedition, Everest and Jake discover a baby whale trapped beneath the ice. The PAW Patrol must use the Air Patroller to help cut breathing holes in the ice and return the playful baby whale back to its mom.
Pups Save a Floundering Francois – When Cap'n Turbot and his cousin Francois are white whale watching in Adventure Bay, their boat hits a rock and starts to sink. The pups have to help free the ship and rescue an overboard Francois from the water.
Giveaway
I'm happy to say that one lucky reader will win a copy of Paw Patrol: The Great Snow Rescue. This giveaway will run from September 30 – October 22. Winner will be verified, emailed and have 48 hours to respond or a new winner will be picked. This giveaway is open to US and Canada residents ages 18+. Good luck!