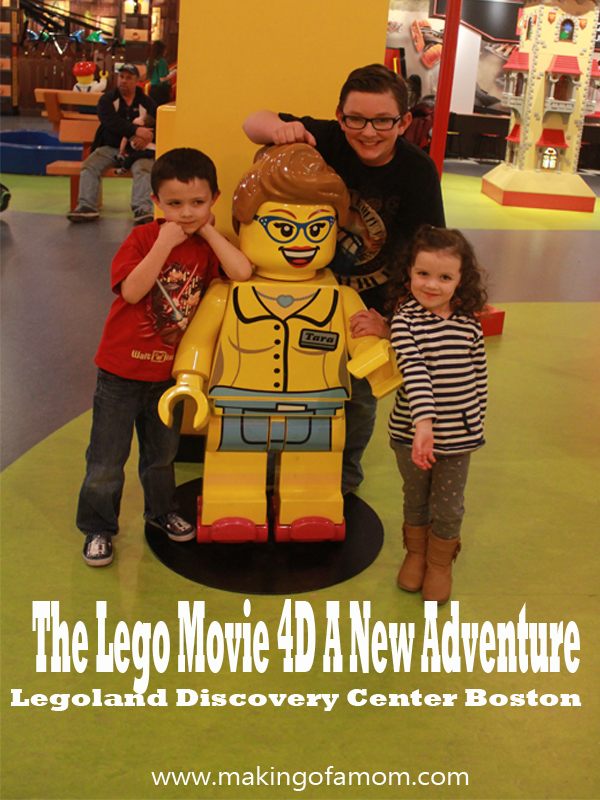 We enjoyed another trip to Legoland Discovery Center Boston.  One of the main purposes for our trip- was to see The LEGO Movie 4D A New Adventure.  We had heard great things about it and I knew my kids would be overjoyed to see some of their favorite Lego Movie characters in another fabulous film. Let's just say- as always, I was right!!  Seriously though it was so fun to see them enjoying the 4D features of this film.
The movie was so much fun.  It was great to watch my kids be "involved" in the whole thing.  There were times when the characters asked the audience for help and my kids were eager to do so.  There was wind and rain and lots of lovely snow.  The movie was very entertaining in and of itself.  The characters were true to their original identities and quirky personalities.  My kids couldn't get over seeing their buddies again.
Watching my children was probably my favorite part of the movie.  Ok I enjoyed a lot of it but I was often caught looking at their reactions.  I enjoyed seeing their faces light up when Emmett and Wild Style made their first appearance.  They were so smiley and right on the edge of their seats the entire time.  I loved watching them reach for the screen, point things out and yell things out.  Legoland did a fabulous job creating a short but fun filled movie.  It was fun for all ages.  My kids are already asking when they can see it again.
Our visit to legoland was as wonderful as always.  We brought my Dad this time and he kept talking about how everyone was so helpful, nice and happy.  I agree, we have always been so pleased with the customer service.    Legoland is a bright, clean and happy place and the employees really help make that happen.  Even at the beginning of the day before we walked through the ticket entrance people were very helpful and inviting.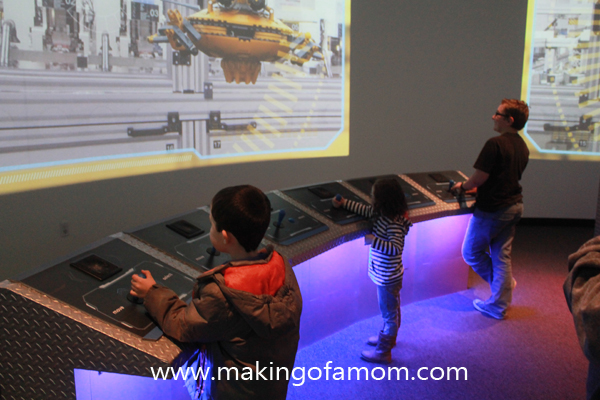 If your kids enjoyed the original Lego Movie then the The LEGO Movie 4D A New Adventure at Legoland Discovery Center Boston is a must see!!  Not only will your kids get to see their favorite characters but they will get to experience them in full 4D fashion.  In addition you can play, learn and ride all day at Legoland Discovery Center Boston.  Check out our other reviews here, here and here. to find out more about what you can do at Legoland Discovery Center Boston.  Oh and they have a cute little lego brick that has Emmett on it.  My son can't stop talking about it!!  In addition Legoland Discovery Center Boston has a new exhibit blasting off on the 19th.  So much to see and do you will not want to miss it!
As it says on the promo "They're Back! And They're Still Awesome!" and my kids would agree!