So on my lovely Chocolate Cream Pies I put some chocolate curls! It made it look really pretty, perhaps like I had bought the pie! Now you too can fancy up your cream pies with some chocolate curls. It is really simple.
First you put 1/2 cup of chocolate chips (I used milk chocolate chips because those are the only ones I like) into a DRY microwave safe bowl. (Make sure the bowl is completely dry because water will separate the chocolate and you will have to start over.)
You melt the chocolate chips in the microwave at 30 second interval. Then stir with a spatula and keep repeating the process until they are completely melted and the    chocolate is smooth.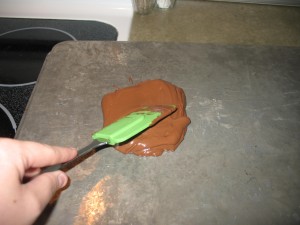 Once the chocolate is completely melted you then pour into on the the back of a cookie sheet. Spread it out pretty thin. You don't want to be able to see the cookie sheet through the spread out chocolate so make it at least that thick. The bigger the surface area of the spread out chocolate the more curls you are going to be able to get out of it.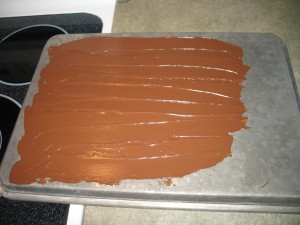 Once it is spread out completely you then need to refrigerate it. This is the most high maintenancepart of the whole thing. You need it to get chilled, but you don't want it all the way set up. The best curls come from a mostly dry chocolate surface. If it is completely dry then you will only get chocolate shavings not curls. If you do chill it too long, just leave it out on your counter for a few minutes and it will start to soften.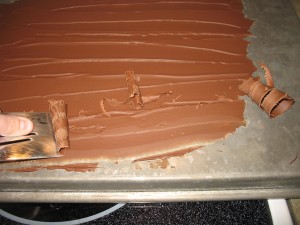 Take a metal spatula and "scrape" off the chocolate. Depending on your spatula you may need to play around with different angles. With my spatula I could just start pushing the chocolate almost flat to the surface and it made a curl. Later I tried a different spatula and I needed to set it at a 45 degree angle to kind of force the chocolate into curls. You will get curls the width of your spatula so keep that in mind. If you want fat curls you use a wide spatula, if you want skinny curls use a narrow spatula.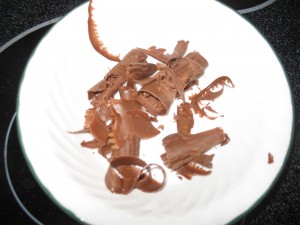 Not every curl turned out perfect, but because the chocolate was malleable I was able to form the imperfect ones into cute curls. Plus it was nice to have a few stragglers to use just as chocolate shavings to fill in the cracks on the whipped cream.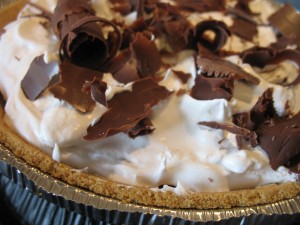 These curls are really easy! You can do it! Once you do it, please email me your beautiful store bought looking pies! Happy Baking!