I told you about how I needed to make a pie for a church activity and my first attempt was not too stellar! Well, I then tried some other recipes. I really want to succeed with a Chocolate Cream Pie because that is my FAVORITE! I searched more websites and came up with two more options to try! I'm sorry for the lack of pictures, but I will give you my rating and the recipes.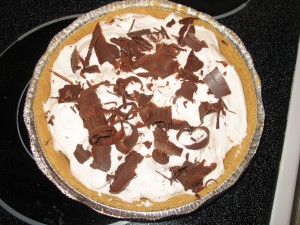 Pie #2
My second pie was pretty good. I had learned from the first pie that I didn't want to use a box of pudding for the filling and called it good. I also did not want to make a high maintenance filling, so I had to find the right balance. This pie had a filling made from scratch, but it was EASY! I found this pie on All Recipes. Here is the recipe:
Chocolate Cream Pie #2
Ingredients
3/4 cup white sugar
1/3 cup all-purpose flour
2 cups milk
2 (1 ounce) squares unsweetened chocolate
3 egg yolks
2 tablespoons butter
1 teaspoon vanilla extract
1 (9 inch) pie shell, baked (I used a graham cracker crust)
Directions
Combine sugar, flour, milk, and chopped up chocolate in 2 quart saucepan. Stirring constantly, cook over medium heat until mixture begins to bubble. Continue stirring for 2 minutes.
Mix a little of the hot mixture into the egg yolks, beating rapidly to avoid cooking the yolks. Stir the warm yolk mixture into the remainder of the chocolate mixture, and cook for an additional 90 seconds. Remove from heat, and stir in butter or margarine and vanilla.
Pour filling into pie shell, and chill until set. Top with whipped topping, and a little grated chocolate.
This pie tasted pretty good. Considering my first pie only had two slices taken out of it and then sat in the fridge for a couple of days before getting thrown away, this one was gone in a day! So it was pretty good. I felt like it tasted a little to dark chocolatey for me. I prefer milk, and this was too strong. I felt it was too chocolate because of the lack of sweetness. If I ever make this pie again I am going to add a little more sugar.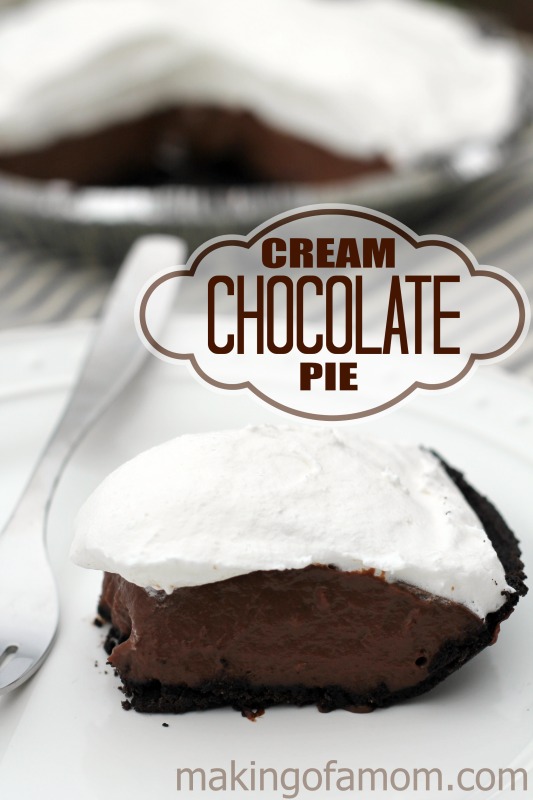 Pie #3 – The WINNER!!
This pie is so good it's crazy! I found the recipe at Food.com. This pie also has an EASY filling from scratch. I made a test pie for the family to taste and that was gone in a matter of hours! I then made the real pie to take to the church activity and that was gone before my family had even gone through the food line and made it to the dessert table! SO GOOD! Here is the recipe:
Ingredients:
1 2⁄3 cups water
3 tablespoons cornstarch
5 tablespoons cocoa
1 (14 ounce) can sweetened condensed milk
3 egg yolks , beaten
2 tablespoons butter
1 teaspoon vanilla
1 (9 inch) baked pastry shells (I used an Oreo Cookie crumb crust!)
Directions:
Mix water and cornstarch and cocoa until smooth.

Sir in Eagle Brand milk and egg yolks.

Cook until thick in saucepan or microwave.

Stir in 2 tablespoons butter.

Add vanilla.

Cool slightly (stirring occasionally).

Pour into baked pie shell.

For meringue: Preheat oven to 400°.

Top with meringue and brown.

Or may top with whipped cream after chilling pie. (I did whipped cream with chocolate curls)
This pie filling started getting lumpy towards the end when you add the butter and vanilla, but when you eat it, it wasn't lumpy at all, just extreme goodness! 🙂
NOTE: I used a graham cracker crust with all my pies, until I made the real thing and then I used a Oreo cookie crumb crust. I LOVED all the crumb crusts with the pie.
Are you interested in learning how to make chocolate curls to top your pie? Here is an easy tutorial on Chocolate curls!