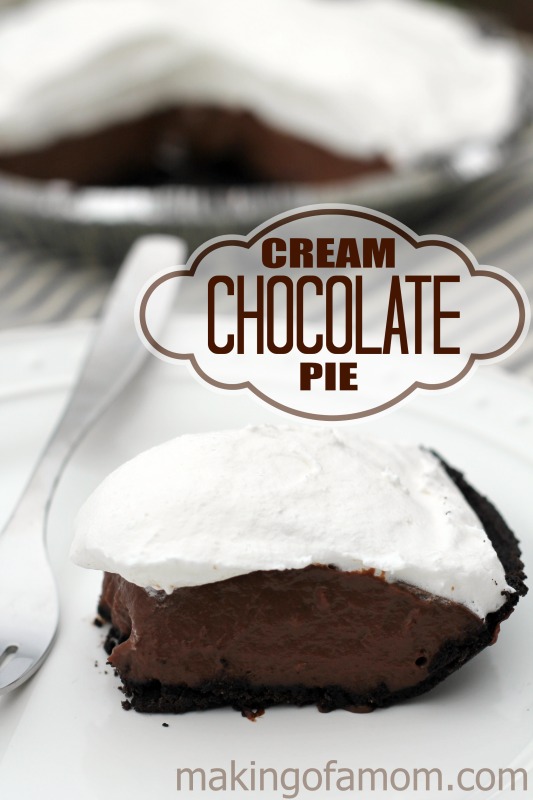 Chocolate pis is my favorite dessert and this is my all-time favorite chocolate pie.  The recipe is so easy to memorize that this is my go-to dessert for company or when I need to take something special somewhere. 
I found the recipe at Food.com
. Try it, you'll love it! Plus, an easy homemade chocolate pie, you need to have this!!
Ingredients:
1 2⁄3 cups water
3 tablespoons cornstarch
5 tablespoons cocoa
1 (14 ounce) can sweetened condensed milk
3 egg yolks , beaten
2 tablespoons butter
1 teaspoon vanilla
1 (9 inch) baked pastry shells (I used an Oreo Cookie crumb crust!)
1 Tub of whipped cream
Directions:
In a medium sauce pan, WITHOUT heat, mix water and cornstarch and cocoa until smooth.

Sir in Eagle Brand milk and beaten egg yolks.

Cook over medium heat, stirring constantly, until thick in saucepan.

Stir in 2 tablespoons butter.

Add vanilla.

Cool slightly (stirring occasionally).

Pour into pie shell.

Top with whipped cream after chilling pie.
This pie filling started getting lumpy towards the end when you add the butter and vanilla, but when you eat it, it wasn't lumpy at all, just extreme goodness! 🙂
Are you interested in learning how to make chocolate curls to top your pie? Here is an easy tutorial on Chocolate curls!