Disclosure: I partnered with Smile Brilliant to bring you this sponsored content and giveaway.
I'm always wishing for whiter teeth but scared to try whitening products for fear of what might happen. I'm scared of making my teeth sensitive, or maybe not getting the gel on all of my teeth and then I'll have a half white and half not so white smile, or other silly fears. When the opportunity presented itself for me to try out Smile Brilliant's LED Teeth Whitening kit I decided to seize the opportunity and try it out.
Included in the kit was the LED light, whitening gel, fine tip brush and lip & cheek guard. The included instructions made it sound easy enough so off I went to try it out.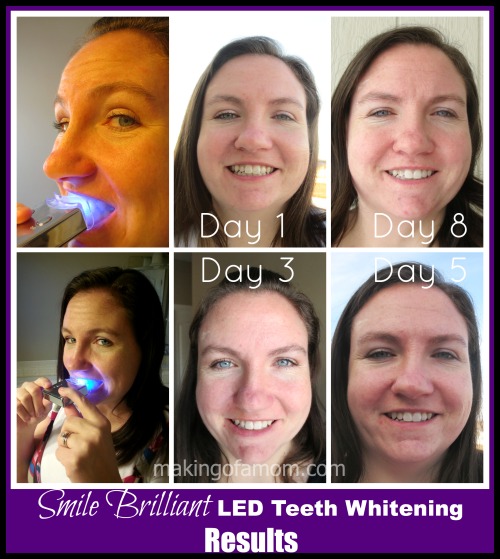 I don't love to post pictures of myself, especially ones this close up, but it had to be done for the sake of the review. If you notice my teeth on day one and day 8 I think there is a big difference. I definitely lightened my teeth several shades!
How does it work?
To begin, paint the gel on your teeth. You only need to paint the teeth visible when smiling because the guard won't reach your farther back teeth and the gel won't be protected by the guard. Once your teeth are painted, insert the plastic guard into your mouth. Turn on the LED light and press the light against your teeth. There is a little lip around front of the light so you can wrap your lips around the light and hold it in your mouth. You can use the light daily for 20-45 minutes. You may choose to keep the whitening gel on your teeth for up to 1-2 additional hours without light.
This system uses 22% carbamide peroxide tooth whitening gel. According to the Smile Brilliant site:
Teeth whitening will NOT alter the natural color of your teeth. So why use it then? The tooth is composed of 2 main visible components:

– Enamel
– Dentin

Enamel is a clear and hard protective coating that rest on top of the dentin which is a soft bone like tissue. Everyone's enamel is clear and collects tough to remove stains over time however not everyone's dentin is naturally bright white. Some are fortunate to have naturally bright white dentin while others have an off white or in rare cases a yellow colored dentin. Teeth whitening will only remove the stains from the enamel thus revealing the true color of your dentin.
This reminds me of the sitcom Friends. Ross tried whitening his teeth on one episode and left the LED light on too long and ended up with incredible white teeth. This statement shows that that outcome isn't a possibility. The gel works to remove stains from your enamel to make the true color of your teeth shine through!
What was my experience with the system?
Everyday I painted my teeth with the gel. I found it hard to keep saliva from getting all over my bottom teeth. My saliva seemed to kick into high gear when I started painting my teeth. Smile Brilliant does recommend getting custom teeth whitening trays to take full advantage of the gel and light.
Once my teeth were painted and I inserted the light I would time 20 minutes. I only did 20 minutes with the light everyday and then I would rinse the gel off my teeth. The first couple of days it was hard for my lips and jaw to keep the light in, but my mouth eventually got used to that sensation.
Although there isn't a stark difference in the color of my teeth, they are definitely whiter, and look better in person than they do in the picture. I'm very happy with the system.
How much does it cost?
To purchase the same package I got with only one gel pen the kit costs $39.99. You can purchase the kit with more gel pens and the prices increases from there. The Smile Brilliant site says that each gel pen lasts for 5-8 applications. I had plenty for the 7 days of this review, and I plan to continue using the gel until it is gone. I may even purchase additional gel pens in the future because I really like this kit.
I haven't experiences any of the side effects I was scared of. Because I can't control my saliva I think that makes the gel get everywhere so I don't have any partial whitening. I also haven't experiences any teeth sensitivity. We drink smoothies with frozen fruit everyday and it hasn't bothered my teeth.
For more details on the LED Whitening kit and for questions, please refer to the Smile Brilliant site.
Giveaway
Smile Brilliant is giving one lucky reader their own LED Teeth Whitening starter kit. Included in the kit is the LED light, brush, lip and cheek guard, and 1 gel pen. This kit retails for $39.99.
This giveaway is open to US, UK and CAN. The giveaway will run from February 12 at 8a.m.- Febraury 19 at 11:59p.m. CST. Enter through the rafflecopter below. Good luck!
Disclosure: This blog is not responsible for the fullfilment of prize. Participating bloggers were compensated either by free product or payment. This giveaway is in no way associated with, sponsored, administered, or endorsed by Facebook, Twitter, Google, Pinterest or any other social media network.All opinions and experiences are my own. Open to the US, UK & CAN must be 18+. Confirmed Winner(s) will be contacted by email and have 48 hours to respond before a new winner will be drawn. No purchase necessary. Void where prohibited by law. The sponsor(s) will be responsible for product shipment to winner(s) of the giveaway. Sponsor will be responsible for prize fulfillment. The disclosure is done in accordance with the Federal Trade Commission 10 CFR, Part 255 Guides Concerning the use of Endorsements and Testimonials in Advertising.