Disclosure: I was invited on a trip to Branson through the US Family Guide Blogger Network. All experiences and opinions are my own. Yours may differ.
Every time we have visited Branson, we have driven past the Grand Country Resort many times and I've always wanted to stay there. Just from driving by and looking at the resort you can tell there is so much to do! With lights galore screaming out the fun it is hard not to notice the Country Jamboree show, the buffet, fun spot with arcade games, pizza and frozen custard, indoor and outdoor miniature golf and the indoor and outdoor water park. Seriously, this place is a vacation in itself!
When my #ExploreBranson itinerary said we were staying at the Grand Country Resort I gave a loud WOOT! I couldn't wait to play at Splash Country water park, eat frozen custard and enjoy the arcade, but first things first.
We grabbed our bags and headed up the elevator to the third floor. I was very happy when we entered the room (though the keys are like a flashback to the 80's!). The room was a nice size for 5 people to share. There was ample space for us to set up the pack and play for the baby. My son and daughter are used to sharing a bed when we go on vacations, so a queen sized bed was plenty big for them. The room felt clean and we were happy to be settled there for 3 nights. The beds were very soft and very comfortable. Everyone slept like a brick, it was so hard to get them up in the mornings. Granted, we were very tired from having so much fun, but still having super comfy beds didn't help! 🙂
Grand Country Resort now has a very fun new type of room – the clubhouse room! These rooms feature bunk beds inside a "clubhouse". There is also storage room and a TV with DVD player inside the "clubhouse". They were building these when we were there and they look like a lot of fun. The resort is also updating their TV's to flat screen TV's. I'm glad they are updating a little at a time. With so many hotel options in Branson, it is nice that they are taking steps to stay up-to-date.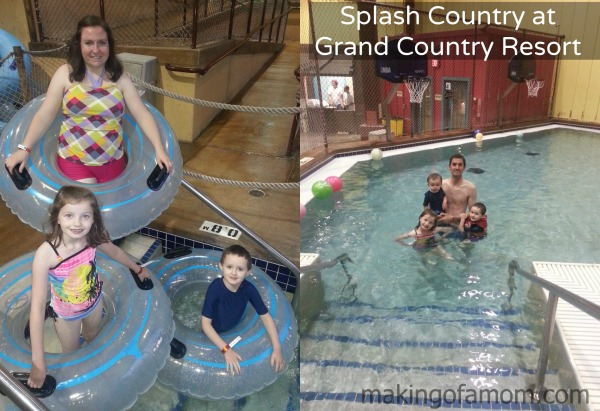 We were tired that first day after having driven several hours to get to Branson and having so much fun at the Showboat Branson Belle, but the  kids insisted we hit the water park, so we did! (Hold the phone, I'm putting a picture of myself in a swimming suit on the blog! I never thought I'd see that day!) While the water park could use a little TLC, the kids thought it was amazing and had a blast!
During the course of our stay we also visited the arcade, ate pizza (which was incredibly good and extremely affordable. I was surprised at how inexpensive it was, and it was so, so good. I'm a pizza snob and I LOVED it!) We also enjoyed some frozen custard as well.
An interesting thing to note about the Grand Country Resort is that it can simply be your hotel while you take in the attractions in Branson, or you can book it as an all-inclusive package! The all-inclusive package includes:
Pretty incredible! I think that sounds like an amazing vacation, one that we will look into in the future. We really enjoyed staying at Grand Country resort. There are a lot of hotel options, but none with the on site amenities like Grand Country. It makes everything easy with fun, entertainment and food all in one place! It was definitely a great stay!
Have you ever stayed at Grand Country Resort? I'd love to hear about your experience!
To view more of the fun that is awaiting in Branson, check out this #ExploreBranson Pinterest Board: