Disclosure: I was invited on a trip to Branson through the US Family Guide Network. All experiences and opinions are my own. Yours may differ.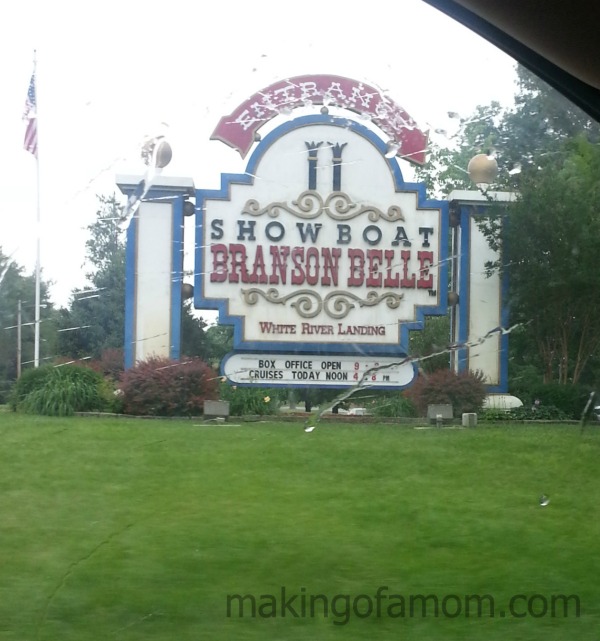 Branson, MO is a super fun, family friendly vacation destination. Though we are new to the Branson scene, only visiting twice before this trip invitation, we love it. I have written about Branson several times on my blog covering several different attractions and hotels. I'm super excited to be showcasing another series of reviews from Branson with some new-to-me attractions.
When I got my itinerary for my #ExploreBranson weekend I was very excited that the Showboat Branson Belle was on the schedule. We love taking riverboat rides and couple that with dinner and a show, this is our perfect idea of fun!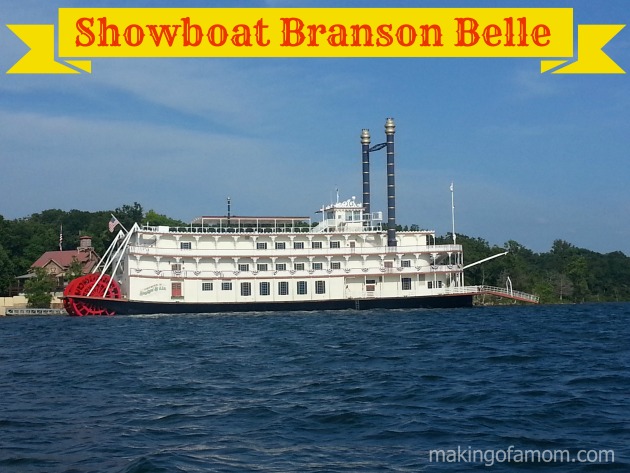 When we arrived it was pouring down rain so we ran from our car, passing all the beautiful scenery and shops, to get on the boat. With your reservation you get assigned seating so we found our assigned tables and sat down. Our waiter, Fred, was very nice and very on top of things. We immediately received drinks and our salad. While eating this first course, a live band- The Rockin' Dockers played some great music and a magician Christopher James performed some magic.
After the salad, dinner plates filled with delicious food were delivered to everyone. Adults received Slow-simmered Beef Roast and Honey-Dijon Glazed Chicken, Garlic Mashed Potatoes and Sugar Snap Peas with Julienne Carrots. We got Golden Brittle Lemon-Berry Torte drizzled with Caramel for dessert. The children received chicken nuggets and mac and cheese with Confetti Ice Cream Cake with Chocolate Sauce garnished with Gummy Bears for dessert. There was a lot of food and it was good!
During intermission we had a fun exploring the boat. It was fun to walk on all of the different levels and see how beautiful Table Rock Lake is. The boat is very charming full of details that immerse you into Americana. The details are everywhere, even in the bathrooms there are beautiful chandeliers above every stall. I didn't take a picture of that because I thought that would look a little creepy. I did take several photos around the Showboat Branson Belle but they don't do her any justice. She really is a beautiful boat!
I love that during intermission you could visit the Captain and see him steering the boat. The kids thought it was very fun. Especially the huge wheel!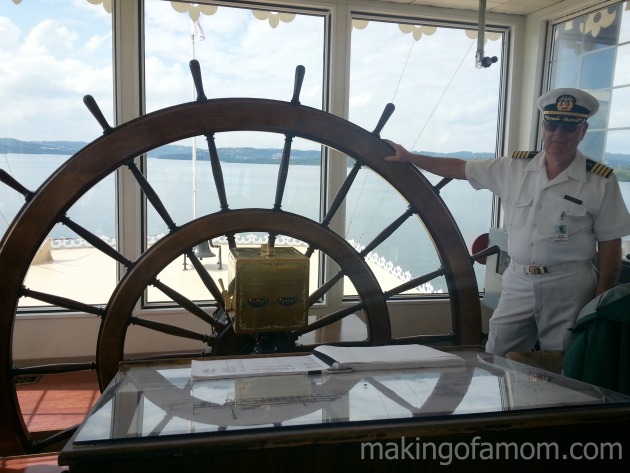 The Showboat Branson Belle is a real paddle boat. These types of boats are few and far between these days so I had to get a video of the paddles at work.
After intermission was a very fun magic show put on by Christopher James. He also happens to be a comedian. His show is so funny and clever. At one point he came into the audience looking for a helper. I do not like being the center of attention but was unfortunately picked. It was my job to go into the audience and pick a $1 bill from someone. He then ripped the bill in half. He signed half and I signed half. We looked at the serial numbers to make sure at the end of the trick it was the same bill. After a series of events, including some jokes at my expense it was time to reveal if the dollars matched. I was in charge of reading the serial numbers and decided to turn the tables on him. I read the wrong number, said "awwww" let everyone laugh and then said "just kidding". He was a little shocked about that and insisted I stay up to help him with his next trick – escaping from a straight jacket. In the end it was fun to be his helper. My husband had to take the baby out because he didn't like me getting pulled up on stage but a huge thanks to That Bald Chick for talking my pictures and sending to me!!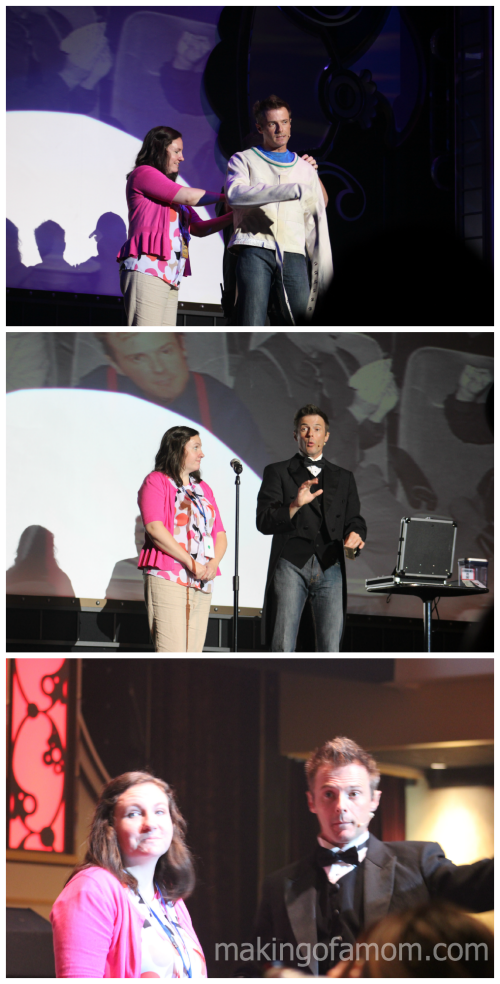 Currently on the Showboat Branson Belle is the show Made in the USA. This patriotic show features The ShowMen and Janice Martin – the world's only ariel violinist. The ShowMen sing beautiful harmonies of popular songs we all know and love. Janice Martin also favors the audience with popular music. She plays her violin on the floor as well as in the sky as she does an ariel routine on silk ribbons. It was incredible! She also plays the piano and sings. It was amazing! The Made in the USA show only runs through 2014 so you'll need to get to Branson so you don't miss it!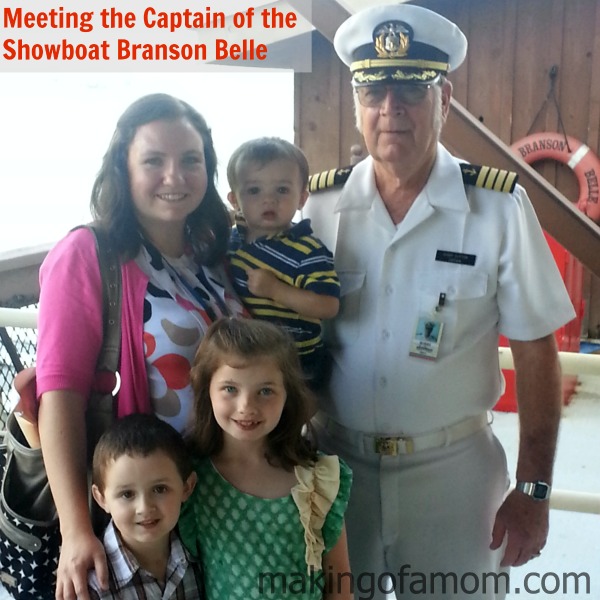 When we left the ship I wanted to get a picture with the Captain. He did a good job keeping us safe and making the boat ride very smooth. You couldn't tell at all that we were on the water at any point during the evening.
If you want to book your own lunch or dinner cruise on the Showboat Branson Belle you can do so on their website. Adults are $49 and children 4-11 are $25. It is so worth it. We loved all of it! My 1-year-old didn't love when I was called up on stage, but if that hadn't happen he would have been fine to sit through all of it. This attraction definitely gets my recommendation!
What are your favorite Branson Attractions? You can see more of what Branson has to offer on this #EXploreBranson Pinterest Board:
Follow Simply Sherryl's board #ExploreBranson on Pinterest.