Disclosure: I received a free stay with waterpark passes as part of the US Family Guides blogger network. All experiences and opinions are my own. Yours may differ.
My family loves Branson. We have been once before. This time my parents were in town visiting so we took them along. They hadn't ever been to Branson so it was fun to see them see all the fun things for the first time.
We were so happy to arrive at Castle Rock. My baby was done traveling so we were ready to stretch for a bit and then get right to the waterpark. Check in was a little slow as there were a couple families ahead of us and the desk attendant was new. Once all the kinks were settled, we went up to find our clean and nice sized room!
Our room on the fourth floor was a good size and able to fit all 7 of us. It was clean and quiet. There were 2 double beds and a nook with bunk beds in it. This cute little nook was very fun for my older kids to sleep in. It even had its own TV so they could watch Disney channel and the rest of us didn't have too. Neither of them had ever slept on bunk beds so they had a good time on those bunk beds.
We called the front desk with several questions and they were always very polite and friendly. They knew all the answers and were happy to help! Castle Rock Resort doesn't offer a free continental breakfast but there is an on site restaurant where you can choose to eat. Castle Rock does offer several great packages:
Big Savings Weekday Special – Book your reservation online and receive 30% Off your entire stay! Valid on new reservations only.  Not valid in conjunction with any other offers, discounts, promotions or packages.  Blackout Dates: 10/13-10/17, 11/28.  Offer Expires: 12/19/13

Wet & Wild Weekend Package – Includes 2 nights lodging, waterpark access, breakfast each morning for 2 adults & 2 children, VIP coupons, 1 water blaster, 2 adult & 2 children Branson Wild World VIP admission (includes animal adventure tour, arcade, and mini golf).  Package starts at $268, 25% off.  On new reservations only.  Not valid in conjunction with any other offers, discounts, promotions or packages. Blackout Dates: 8/30 – 8/31, 10/18 – 10/19 Expires 11/2/13

Call 1-888-273-3919 to book or visit http://www.castlerockbranson.com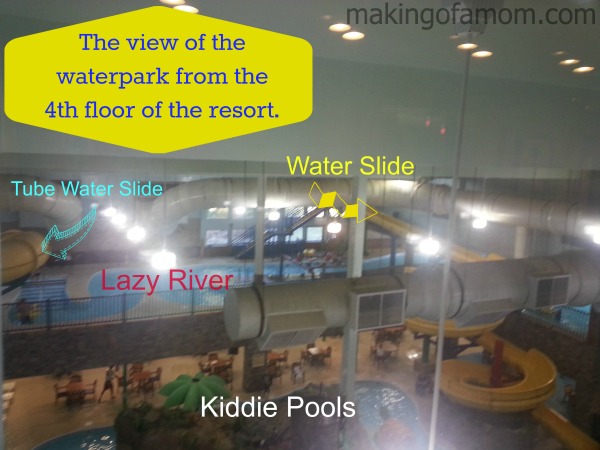 From the fourth floor we had a fun view of the waterpark. The 30,000 sq ft. waterpark has an interesting layout. On the ground floor are several kiddie pools with little slides, a pool for the tube slide to land in and another deeper pool that can be a lap pool if desired. On the second floor there is a lazy river and entrances to the stairs for both water slides.
Some things I noticed while at the waterpark: the lifeguards were very active, constantly on the move and checking all the pools. They were doing a good job but I honestly felt like there could have been 1-2 more just to be safe. Only 1 slide was open at the time. I'm not sure why they didn't allow both open at the same time. At some times neither of the slides were open.
Castle Rock waterpark offers FREE life jackets! I LOVED this so much. Both of my kids have been in swimming lessons for several years, but neither feels comfortable in the water so I loved having these available to us. As you can see in the picture there were plenty available.  The kids loved the kiddie pools, slides and rain showers. The kids had a blast all over the waterpark. Their favorite thing was the lazy river. They would swim with the current or ride a tube around the river – but watch out! There are several places on the river where water is coming out of a bucket or a tube to get you. It was a lot of fun to either avoid the water or go for it and get soaked! The kids loved it.
From an adult perspective, and having visited several waterparks this year, this was the smallest one we had been too. There were several areas that I felt could use some repair attention. Even though there were a couple things I wasn't happy about, the trip overall was very fun for the kids and they didn't have any complaints. Since this was a family trip and more about them having fun and us creating memories, it was perfect. They had so much fun, we had fun as a family and this will be a trip my kids remember forever.
Thanks Castle Rock for hosting my family! Hopefully we'll be back soon!