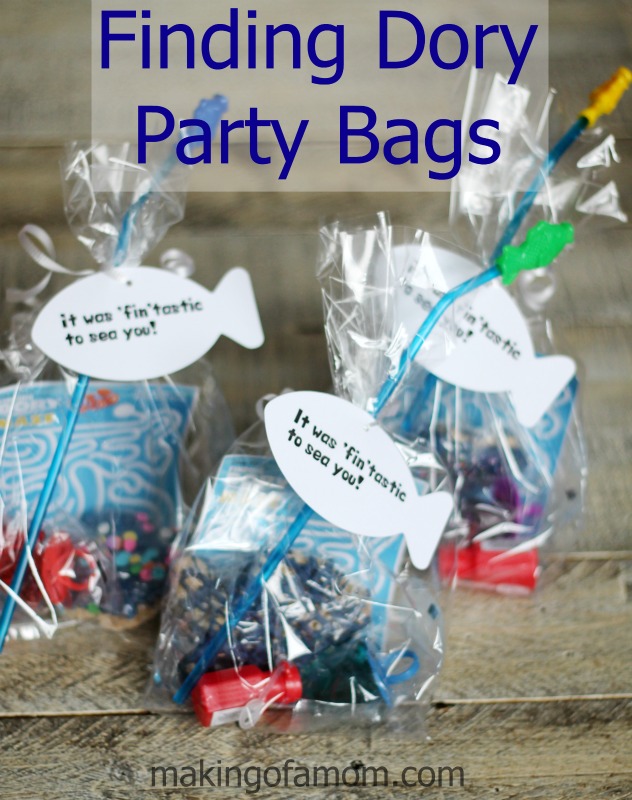 June 17th Finding Dory is coming to theaters! As with all Disney movies, I'm sure kids will want to have Finding Dory themed parties. When this happens to you, come on back for these awesome party bag ideas!
Fish Rice Crispy Treats
Armed with a fish shaped cookie cutter I made rice crispy treats.
3 Tablespoons butter
1 Package (about 40) Marshmallows
6 Cups Rice Crispies
1 Package blue chocolate wafers, melted
Over medium heat melt butter in a large sauce pot.
Add marshmallows stiring constantly until completely melted (do not boil).
Stir in Rice Crispies. Mix until combined.
Place in a greased pan. I used a jelly roll pan so my fish would be thin and so I would have plenty of Rice Crispy Treats to make plenty of fish.
Once cooled, use cookie cutter to cut fish shapes.
Dip fish into blue melted chocolate and set on a wax paper. You can decorate your fish with sprinkles, candy, eyes, other colors of frosting, etc.
Fish Themed Toys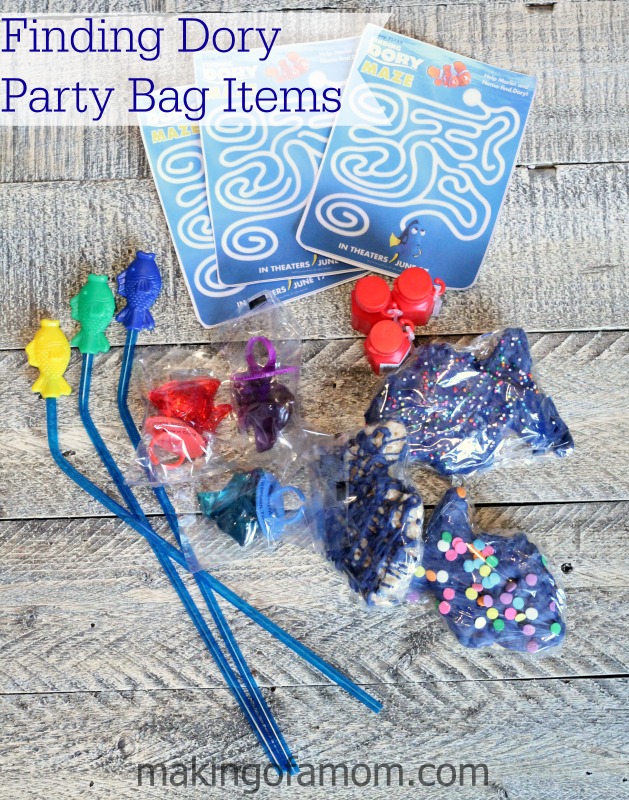 Oriental Trading Company has some awesome little toys perfect for a Finding Dory themed party. Some of these items I used for my
Disney Cruise Fish Extender gifts
but they are also perfect for these party bags. Some cute options for little toys to include are
Finding Dory Activity Pages
You can simply print out these pages Finding Dory activity pages with mazes, dot-to-dots and more! Shrink them down or include full sheets. There are so many fun activities to choose from. Here is another option, a Finding Dory Memory Game, simply click the link, download and print!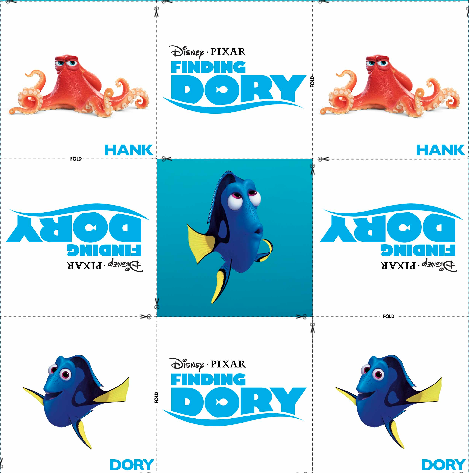 Bag Tags
No party bag is complete without cute bag tags. If you manage to put a cute pun on that tag you get bonus points, so here is our extra bonus points for cuteness bag tags to attach to your Finding Dory (or fish themed) party bags. "It was fantastic to sea you." Adorable, right?
My kids really enjoyed these darling Finding Dory party bags. What other items would you include?
Want to finish off the rest of the party with games, decorations and activities? Check out Finding Dory Party Ideas over at Life with Heidi or the awesome food ideas with these Finding Dory inspired ideas.