Thanks to Oriental Trading Company for providing free product samples for my Fish Extender Gift Ideas post. All opinions are my own.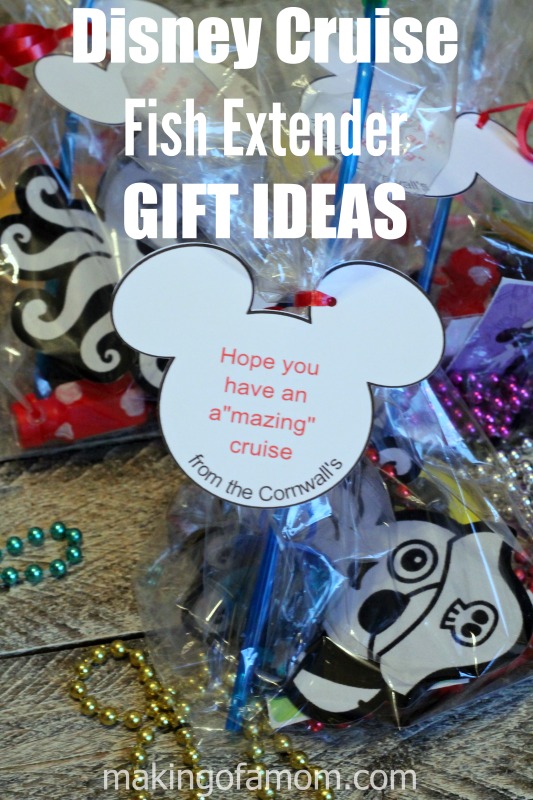 My family is taking our very first Disney cruise soon. As I have been doing research on how to plan for a Disney cruise, what to pack, what is different about a Disney cruise than other cruise lines, I discovered the magical world of Fish Extender Gifts.
What is a Fish Extender?
Right outside each cabin is a fish or some other sea creature attached to the wall. This decoration is used to deliver notes to your room, from the daily schedule to receipts and any other information that needs to be communicated. This little fish slightly sticks out from the wall making it easy to hang something from it. So what will hang from it? A pocket organizer known as a "Fish Extender."
A Fish Extender group is a group of people that will all be attending the same cruise and have agreed to give each other little gifts. Organized by one person on each cruise, groups are formed. Every family shares their cabin number and info about each family member so that gifts can be accurately assembled (after all I don't want to give some Dad a Minnie Mouse pin unless he LOVES Minnie Mouse!)
Fish Extenders are available for purchase all over the internet. There is also a plethora of patterns so you can make your own. I was able to find a YouTube video which basically taught me how to sew my pocket organizer appropriately but I had to wing it from there. I wanted each pocket to be unique from any other fish extender out there and customized for each member of my family. After a couple days of sewing, bleeding and crying, this is how my family's fish extender turned out and we LOVE it!
What are Fish Extender Gifts?
Now that you have your fish extender, what gifts are you going to make, buy or assemble for your group. Since this is my first time I did some research on what other people were giving out. It turns out that pretty much anything goes. Some people get extravagant with personalized gifts and others go simple with store bought items. Some people give one gift, others put together a gift bag with several items in it.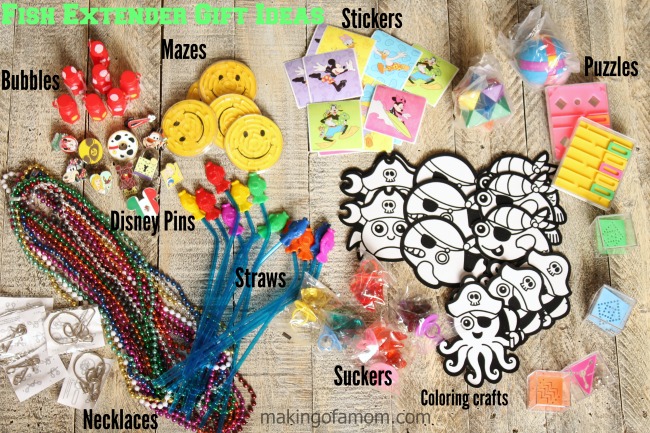 I decided to do a little of both. I bought all my items but decided to "Disney up" some of it.  I decided on a "Disney Nautical" theme so that I could give sea creatures and Disney friends. With that theme in minds I got a little carried away. I made some great purchases on Amazon and went on a little shopping spree on
OrientalTrading.com
.
What is going in my Fish Extender Gift?
Get ready for a long list (I told you I got carried away).
Disney Pins
Mazes (Our tags say "Have an a'mazing' cruise")
Bubbles (which I painted to resemble Mickey or Minnie)
Bead necklaces
Pirate Sea Life Magnets (Fun activity to color on the cruise!)
Oriental Trading
is an awesome site to shop for Fish Extender Gifts. Especially once you have narrowed your theme. I found so many cute things to include in my bags. My favorite of the Oriental Trading items is the Tropical Fish Ring Pops. Seriously, how cute are those?
I also included a couple items I got from local party stores. We decided to get red bubbles and turn them into Mickey and Minnie bubbles. With a yellow and white paint pen it was easy to transform a plain bottom into a Mickey bottle of bubbles and a Minnie bottles of bubbles.
I wanted to provide the kids some fun activities to do while on the cruise. The sea creatures are coloring pages that come with magnets they can then place on their cabin doors. The puzzles can keep the kids busy during dinner while they are waiting for food to arrive. The straws can also be taken to the dining room at meal times. I thought this was a fun assortment of items for the cruise, that also wouldn't be a big deal if the parents decided to through it away afterwards. It will have served it's purpose by then.
I know some people go the personalized gift route for Fish Extender gifts. My budget didn't allow me to do so, but I think I have a nice selection of items to make that week on the ship a fun one.
Have you ever been on a Disney Cruise? Did you participate in the Fish Extender program? What are some of your Fish Extender Gift Ideas?