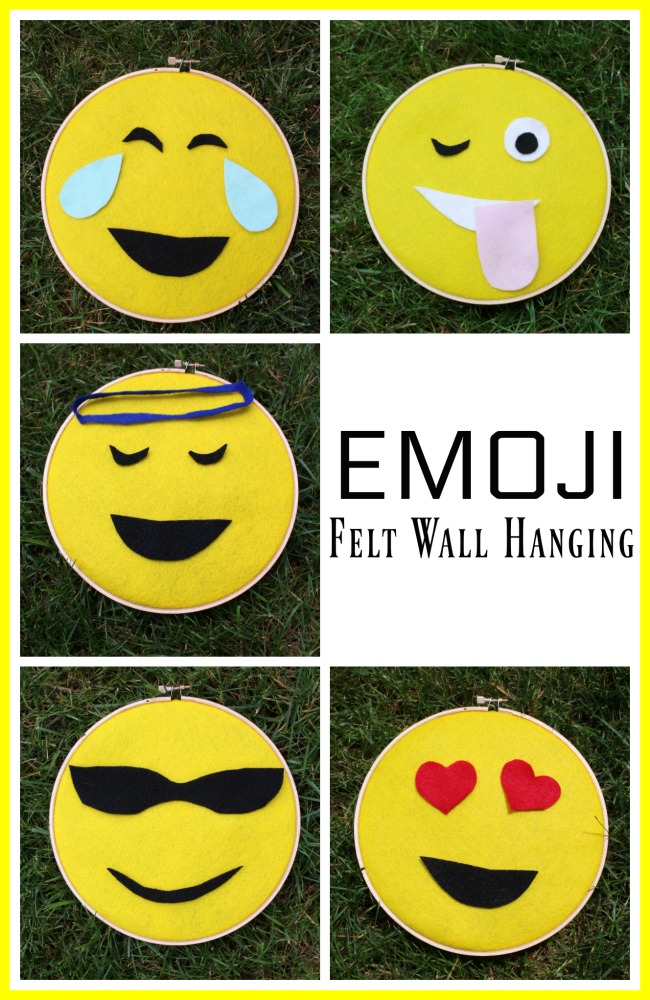 Emoji's seem to be everywhere! On clothes, lunch boxes, toys, food, and even in the movie theater! So why not also have them hanging in your home? If your kids (or you, I'm not judging) love emoji's, this is a really fun, cheap, and simple craft to add some yellow emotions to your room with an 
Emoji Felt Wall Hanging
. My preschooler is really obsessed with emoji's and has been loving all these emoji projects we have been doing. By the way, if you love emoji's, be sure to check out my
Emoji Bookmarks
 craft and
Emoji Cake Pops
.
Supplies:
Directions:
Using the colored felt, cut out all the different pieces of emoji faces you want: tongue, eyes, tears, hearts, sunglasses, lips, smiles, halo, etc. Reference your cell phone or computer if you need help coming up with cute face ideas beyond what I'm showing you here.

Secure yellow felt in embroidery hoop. Simply place the felt on the smaller of the two hoops and press the bigger hoop on top. Twist the top screw as closed as it will go to make the frames tight. Cut off excess felt.

Arrange face pieces on the yellow felt before securing with glue. Once you have everything positioned the way you want, then glue the face down.
Done! This craft is so easy it only has 3 steps. You can make a wide variety of emoji hangings with very few supplies. This craft is not only good for a cute decoration but it could be used as a teaching tool, or aide, to help discuss emotions with your children. If your children are too young to really verbalize their feelings, perhaps visualizing them with these different emoji faces could help them express themselves.
Which emoji faces are your favorite?