This article contains affiliate links. If you purchase through my like you will receive a small commission. All opinions are my own.
My kids have been obsessed with emoji's for a while now (even though they are little and don't have cell phones) and with the help of the new Emoji movie, they are now over the top. So much so they want to make all the emoji crafts and recipes. Luckily, I was able to find a couple emoji craft kits at Michael's a couple weeks ago and they were in heaven. Then I started looking for emoji recipe's or trying to think of easy ways to make up some emoji treats. This Emoji Cake Pops recipe is super easy and only requires a few ingredients.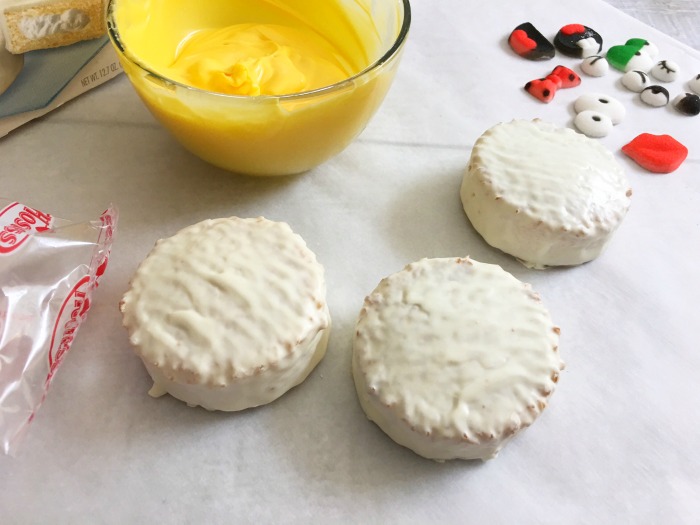 Ingredients-
White Ding Dongs
Wilton yellow candy melts
Lollipop sticks
Black gel icing
Directions- 
Add 1 cup of your yellow candy melts to a microwave safe dish and heat for 3-4 minutes, stirring every 30 seconds until melted.
Unwrap your Ding Dongs, dip the top of each one into the melted yellow chocolate, and place them onto a piece of parchment paper.

While your chocolate is still soft, add the icing decorations to the yellow Ding Dongs making each one a different Emoji face (I like to just use either the eyes or mouth and draw the other on)

Place a lollipop stick into the bottom side of each Emoji Ding Dong treats and let them set for about 30 minutes before eating.
Looking for more Emoji activities or crafts? I have several coming soon, but for now you can check out how to make these DIY Emoji Bookmarks! They are pretty cute and perfect for your little readers!
Are your kids loving emoji's as well? Did you see the movie?