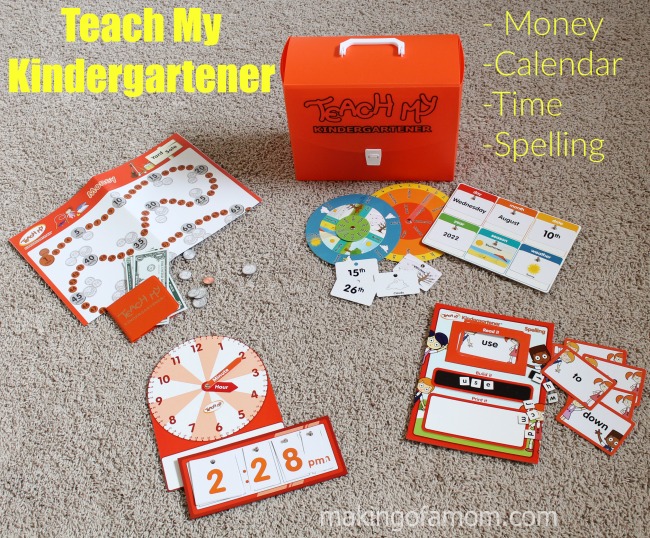 I'm a big fan of
Teach My
products. We own several of them. They are great ways for my kids to have fun learning different skills. They are also a simple way for me to play with my kids and help them understand different subjects, after all I am definitely no teacher. I love that Teach My makes learning fun and easy for all of us.
The Teach My Kindergartener Learning Kit is one I have wanted for a while. I do not have a Kindergartener this year, but after playing with it on my own and playing with my toddler I have found that this kit has a wide span of learning for kids of different ages. While my almost 4 year old is heading off to preschool this year, he has really enjoyed playing with the kit. He has learned some things that would be above his age level, but he wanted to know about them so I taught him. Let's explore inside the Teach My Kindergartener Learning Kit.
It's All About The Money
This section is my kids favorite. When they looked at the picture on the box of the contents of the kit, this is what they wanted to play with first. My second grader has only scratched the surface of learning about money at school and so this section is perfect for him. We have used the toy flash cards to set prices and play "store." He starts with some money and then "buys" the different toys he wants. It's been good to help him further understand values of money and how change works. It's still a work in progress but it's been more exposure than he's gotten at school.
My toddler was interested to learn the name and values of the money in the kit so we played a fun sorting game and now he knows. Plus he loves stuffing the wallet with all the money. There are ways to make this kit appropriate for kids of many ages and skill levels.
What Day is it?
All of these fun learning tools in the Calendar section are awesome. With these tools you can help your children learn the days of the week, months of the year, limited weather conditions and seasons. The wheels with all the info are really fun to play with and sorting through the cards to make the correct date and season has been a blast.
What time is it?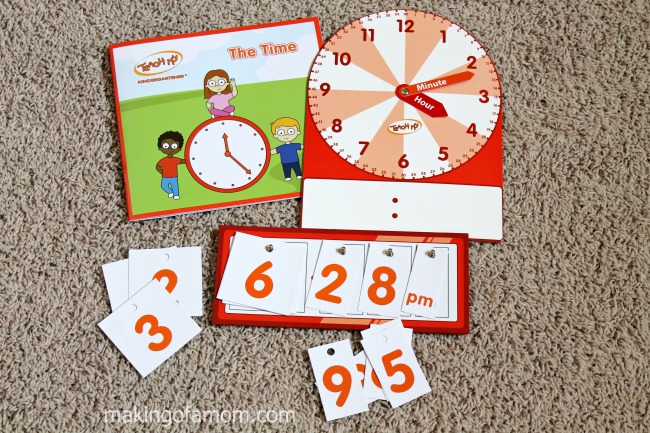 Kids, at least my kids, have no sense of time. If they ask when we are leaving for something it helps to say in terms of a show. For example, we are leaving to go to the store in an hour, which is like watching two episodes of Bubble Guppies, or something similar.
While telling time is still something my second grader is learning, my fifth grader has enjoyed helping her little brother try to figure it out. The toddler doesn't understand at all, which is fine, but he does enjoy messing with the numbers or asking me to put up a certain time. "Show me bedtime, Mommy." It's been a lot of fun.
I can Spell that
The spelling section is my favorite section as a Mother. I love that it provides learning for many different styles of learners. You can see the words, use the erasable crayon to write the words, and manipulate the letter magnets to spell it out that way. I love that it provide three ways to really learn how these easy beginning words are built.
My second grader has a very high reading level so he wasn't interested in these beginning words, but my toddler has loved finding the magnet letters to copy the flashcards. I love how interested he is in building these words and I figure he can't get too far ahead when it comes to reading and letters so I'm loving his interest.
I LOVE the Teach My Kindergartener kit. I highly recommend it to families with young kids not in school and even children in their first couple of years of school. The kit teaches so many skills across a lot of different levels that it is a perfect introduction or supplement depending on your child's skill level. We are getting a lot of use out of the kit and the skill it teaches across 4 years at my house, and it's awesome!
Giveaway
Teach My is giving one lucky reader the chance to win a Learning Kit of your choice. Teach My has learning kits for
Baby
,
Toddler
,
Preschooler
and
Kindergartener
. Each kit retails for $29.99.
Enter August 10 – 17, US  residents ages 18+. Winner will be verified, emailed and have 48 hours to respond before a new winner is chosen. Good luck!
a Rafflecopter giveaway