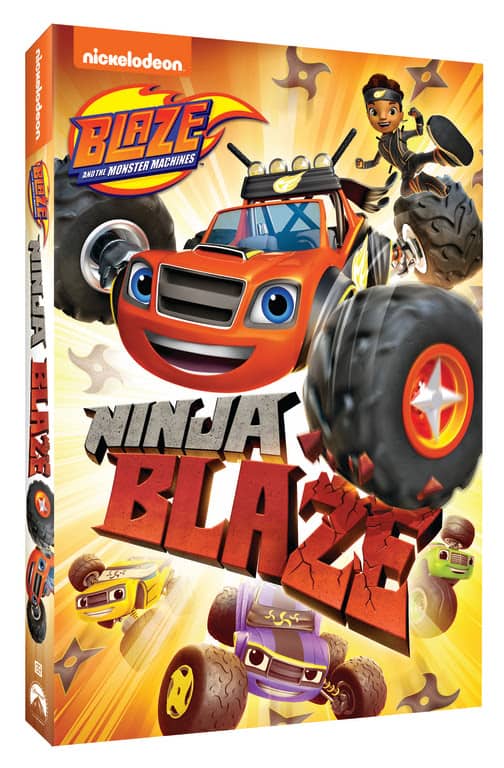 While I do have two boys who are really into monster trucks, my 2 year old daughter has recently decided that she loves monster trucks! She has been having so much fun with our
monster truck toys
and loves watching all our Blaze movies. I'm really excited that a new movie,
BLAZE AND THE MONSTER MACHINES:
NINJA BLAZE 
is coming to DVD August 20, 2019.
Blaze and the Monster Machines: Ninja Blaze episodes:
Ninja Blaze – Ninja Master Blackbelt is training Blaze and AJ to become powerful ninjas when Crusher and Pickle accidentally launch themselves onto an icy mountain. Now Blaze and AJ must use their new ninja skills to rescue them.
Ninja Soup – When Blackbelt's grandma, Grandma Ninja, gets a bad cold, Blaze, AJ and Blackbelt set out to make the most powerful medicine there is: Ninja Soup!
Pickle Power – Blaze, AJ, and Pickle work together to save Crusher after he gets sucked into his own Auto MegaVac.
Defeat the Cheat – Blaze and AJ are gearing up for the second ever Team Truck Challenge, and this time, their teammate is Crusher. Will Crusher be able to resist his cheating ways and win for the very first time?
The Super-Size Prize – Blaze and AJ don't have enough coins to try the new Supersize Prize Machine at the Axle City Fair. To earn money, Blaze takes on new jobs like gardener, dentist, and pizza delivery-truck.
I'm so excited to offer one lucky winner this DVD! This giveaway is open to US residents ages 18+. The giveaway will run from August 6 through August 25. Good luck!