This post has been sponsored by Hot Wheels, all opinions are my own.
Summer can get long and dare I say it – boring! There are so many hours to fill in a day so I try to come up with themed days to break up the monotony. We recently had
Monster Truck Day
with all the incredible Hot Wheels Monster Trucks I was sent. This was an easy and fun themed day to pull off – let me show you how!
Outing
My boys knew we were going to have Monster Truck Day but they didn't know what it would entail. We started our day by heading to the library to check out some books about Monster Trucks.
New Toys
When we were done with the library we came home to a very special Monster Truck surprise – a tower of new HOT WHEELS Monster Truck toys!!
The initial shock was awesome, then they immediately tore into the packages. 5 Monster trucks and a Monster Mover made for an awesome afternoon. Turns out the Monster Mover launches the monster trucks off it's back. Plus there are double ramps so the trucks can be stored on the top and in the middle of the Monster Mover. You can get these and more
HOT WHEELS Monster Truck toys at Walmart
.
As part of their play they decided to read the Monster Truck book to the toys. I think it's cute the way my kids give their toys human qualities, like the truck was interested in the book.
One of the ways my boys love to play with Monster Trucks is to "race" them. They line them up like they are racing and move them along, two trucks at a time. They think it is so fun and do this for hours every day with all their cars and trucks.
Themed Food
When playtime was over, it was time to head upstairs for a Monster Truck buffet! We used bagels to make pizzas. I told the kids they were monster truck tires! They loved that. I had the toppings they wanted and the process was quick, only about 15 minutes. Just add sauce and toppings to the bagels and bake at 350 for 10 minutes.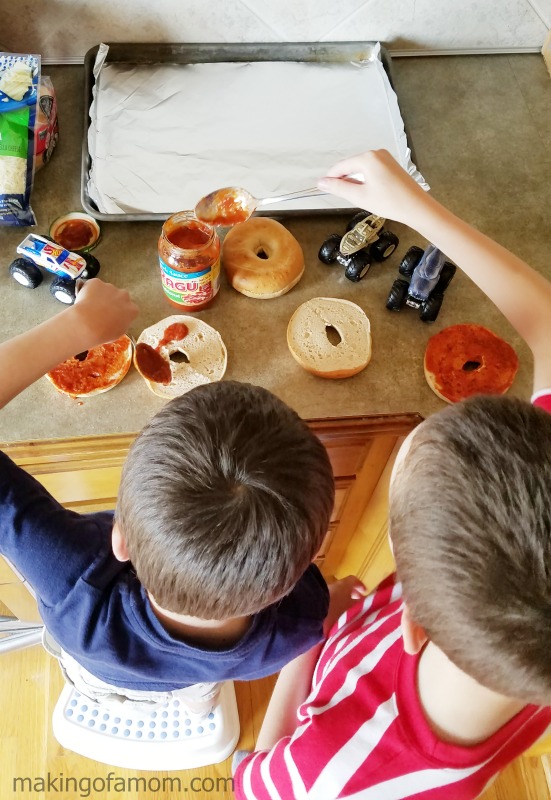 Once the pizza was done I set up a cute little food table with labels. We had spare tires (chocolate donuts), snow tires (powdered donuts), Monster Truck Pizza and washer fluid (blue juice). A little handmade sign finished off the cute table.
The boys loved their special Monster Truck lunch and the day was a success. The best part is that the Monster Truck toys will now create hours of entertainment for the rest of the summer. This simple, but fun Monster Truck themed day helped create anticipation, excitement, and created some fun summer memories.