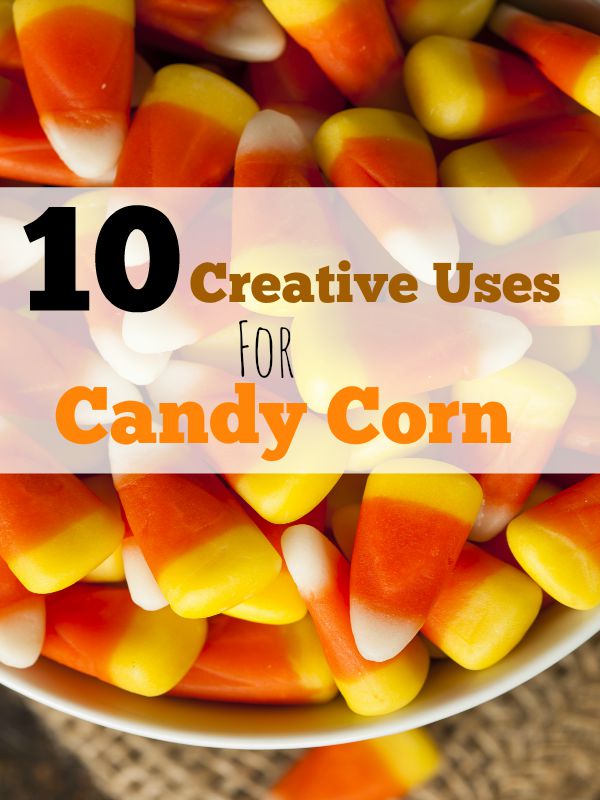 Candy corn is a classic Halloween treat, and one that you can find easily and inexpensively. And while a bag of candy corn is great for snacking on, it has some other fun and practical uses as well. Take a look below at 10 creative uses for candy corn that you can try this Halloween season and really get your bang for your candy corn buck!
1. Pretty up a picture frame.
Use hot glue to glue candy corn on a picture frame. Add a coat of Mod Podge over the candy to seal it and you have the perfect fall décor piece. This is a great craft for kids, and easy way to dress up an old frame.
2. Add them to baked goods.
Give any baked treat a fall spin when you add candy corns to it. You can add them to brownies, muffins, top cakes and cupcakes with them, or even add them to ice cream. They are sure to make any sweet treat festive.
3. Make a candy corn garland.
Take a needle and thread and gently thread it through soft candy corn. Add as many as you wish to get the garland as long as you wish. When done you have easy and inexpensive Halloween décor that looks cute strung up anywhere.
4. Teach counting skills.
Teach little ones counting skills when you give them a handful of candy corn. They will enjoy counting them, doing math problems with them, and using them as math manipulatives. When they are done, they can eat their candy corn as a reward.
5. Use them as vase fillers.
Fill a small vase with candy corn and add a battery operated votive for an instant centerpiece. You can also use them to fill bowls and other centerpieces for a quick pop of color.
6. Make balloon weights.
When throwing your Halloween parties, hold your balloons in place with candy corn balloon weights. Just place the candy corns in a baggie, tie with ribbon, and tie your balloons on. They will stay in place and look great!
7. Make the perfect Jack O Lantern face.
When decorating cookies, especially pumpkin cookies, candy corns make the perfect eyes and nose! Just press them to the frosting and you are done.
8. Make Witch's teeth.
Take a slice of apple and add peanut butter to it. Press candy corn to the peanut butter pointing upward and you have a mouth full of witch's teeth. This makes for a fun Halloween snack.
9. Make adorable mason jar décor.
Fill mason jars with twinkle lights and add in some candy corns. Replace the lids as best you can and you have some instant holiday décor. The jars will glow and the heat from the lights will gently warm the candy and make the jar smell great.
10. Craft candy corn barrettes.
Make fun hair accessories when you hot glue candy corn to metal barrettes and hair clips. Add a coat of Mod Podge over the candy to seal it and you have the perfect fall hair accessory!
See how fun candy corns can be? Give some of these creative uses ideas a try and see some of the fun ways you can use them.