A few months ago my family was lucky enough to get to see Inside Out at the Dolby Cinema at AMC Prime at the Barrywoods 24 theaters in Kansas City. This was our first experience at these new, state of the art, incredible theaters! Ever since that experience whenever there is a movie coming out that my kids are interest in seeing they ask if we can go to the "fancy" theater.
What is so special about the Dolby Cinema at AMC Prime? Well for now, one of the reasons they are special is because there aren't very many of them. Where are they?
Arizona
AMC Desert Ridge 18
Georgia
AMC North Point Mall 12
Illinois
AMC Hawthorn 12
Misouri
AMC BarryWoods 24
New Jersey
AMC Garden State 16
Northern California
AMC NewPark 12
Southern California
AMC Burbank 16 AMC Century City 15
Texas
AMC Deerbrook 24 
AMC Willowbrook 24 
Virginia
AMC Hampton Town Centre 24
These theaters also come equipt with the most amazing seats. They are electric recliners and oh so comfortable.
Then there are the speakers. They are all over the theater, on the walls, and ceiling and totally immerse you in the movie. With so many speakers there is a slight vibration during intense parts of the movie that really feel like you are in the movie.
Then there is the incredible laser projections that makes colors enhanced and enriches the viewers experience. I remember when I was watching Inside Out thinking how beautiful the movie was with so many vibrant colors. Part of that was the movie, part of it was the theater.
Now my family has once again been blessed with the opportunity to visit the Dolby Cinema at the AMC Prime theater near me to see Zootopia! I can't wait for another fun family movie day enhanced by the incredible technology of the Dolby Cinema. I'm also lucky enough to
give away tickets
to see the movie with my family!
Zootopia hits theaters March 4. My family along with a lucky winner and their family will be watching Zootopia at the Dolby Cinema at AMC Prime in the Barrywoods 24 theater complex this Saturday! If you live in the KC metro enter to win these tickets!
Giveaway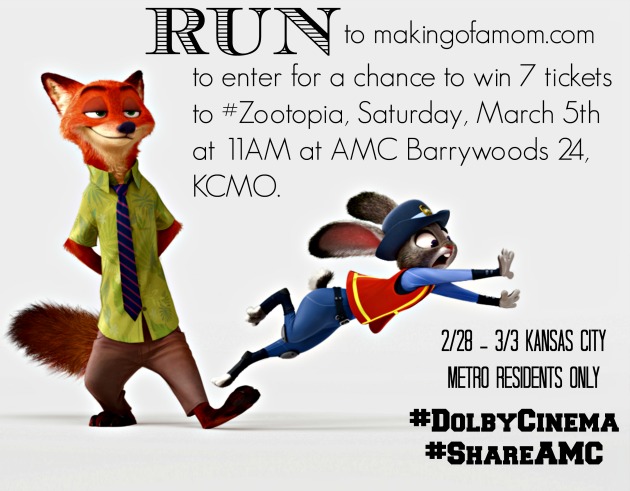 1 lucky winner will receive 7 tickets to see Zootopia at Dolby Cinema at AMC Prime at Barrywoods 24 on March 5 at 11am.
Tickets will be waiting at will call. Winners will be verified, emailed and have 12 hours to respond before a new winner is chosen. Be sure to share this giveaway with all your local friends!
Giveaway runs February 28 – March 3. Good luck!