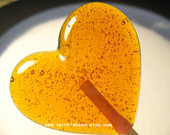 I love fall because it means all things pumpkiny! I love the smells and the flavors of Autumn! One of those fun flavors is a pumpkin pie lollipop! Super fun huh?! This lollipop is a perfect fall treat.  This lollipop is courtesy of Twinkle Bean Lollipops, a very cute etsy store. It comes in a cute heart shape and some cute packaging. I was thinking about how fun it would be to have one of these at each place setting for Thanksgiving.
Usually when I have products to review I am the one testing it, but this time my kids came gathering around as I was taking pictures of the lollipops. My 3 year old kept saying "can I eat it now?" So I took one lick and then let my kids have at it! My son loved it so much he couldn't just lick it, he started biting it and eating it up. My
daughter was more willing to have it last and ate it the traditional way.
Check out some of these other cute treats she offers in her store. I can't believe how creative and adorable these lollipops are!
Along with the cute lollipops she has a variety of flavors to choose from! DELISH! I know many of you will have a hard time waiting to get your hands on these lollipops, so in the mean time Twinkle Bean Lollipops is offering a 15% OFF coupon code: MAKINGMOM.
Twinkle Bean Lollipops has generously offered an awesome giveaway to my readers! We will have 3 WINNNERS!! 2 Winners will receive 2 Pumpkin Pie Organic Lollipops and one Grand Prize winner will receive a 5-pack of any one flavor. The winners will be randomly chosen from the Rafflecopter entry form. I will choose 3 winners, which ever of those 3 people that has the most entries into the giveaway will be considered the "Grand Prize" winner, the other two will win the 2 lollipops, so be sure to get as many entries as you can! Giveaway is open to US and Canada. Making of a Mom is not responsible for prize shipment. Winners will be verified.
Disclosure: I received free product in exchange for my honest opinion.