Recently we took our children to
Sea Life Aquarium in Kansas City
. Though we have been before, the kids were so excited to return! I asked them what their favorite parts of Sea Life were and here is their top 5 list!
The play place at the end of the aquarium. Right before exiting Sea Life there is a play room with play equipment, a sand table and a few more fish tanks. They love playing in this room. The play equipment is suitable for kids a variety of ages so all three of my kids had a blast. We know they will want to play for a long time so we try not to schedule anywhere to be when visiting Sea Life so they can take advantage of the fun!
Bay of Rays. This fun room allows you to get above the tank and watch the rays and eels from above. You can also be side by side with a tunnel and bubble windows that get you feeling like you are inside the tank! These are some huge rays and really interesting to watch! It's fun to see how your kids measure up.

The jelly fish tanking is fascinating whether you are young or old. The beautiful creates are almost hypnotic. The kids love to watch the peaceful jellyfish floating around their tank.
Shark Reef Tunnels are mesmerizing. The kids love going "under" the tanks and becoming apart of them. When you are walking through the tunnels and the sharks are swimming above you it is definitely eerie, yet amazing. The kids love to sit on the bench in the tunnel and enjoy the fantastic view.
Kids love to touch everything, right? The touch tank at Sea Life is a different story, though. Only my daughter is brave enough to touch any of the creatures in the touch tank, but everyone enjoys the cozy, upclose feeling of the touch tank. You are really close to some cute little creatures and it's really fun. They even have an underwater camera they don't mind moving around to get zoomed in on a creature you are interested in seeing up close!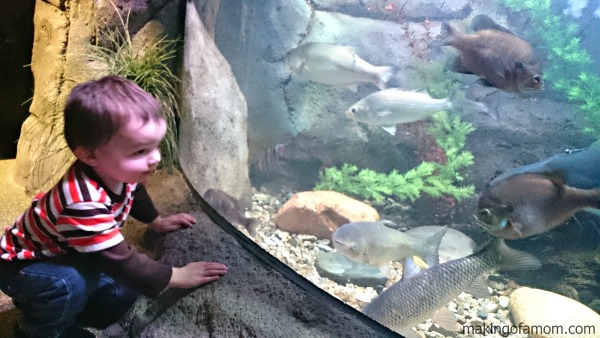 Although the whole attraction itself is pretty small, it only took up 45 minutes to go through it, it is still a fun field trip for the kids. The exhibits are so beautiful. There is so much attention to detail and the aquarium is so beautiful. Be sure to
buy your tickets online
for a discount, or even consider a season pass which is on sale through January 3rd!
When is your next visit to Sea Life?