I was invited on an all expense paid trip to help promote the Disney Home Releases of Tomorrowland and the diamond edition of Aladdin. All opinions are my own.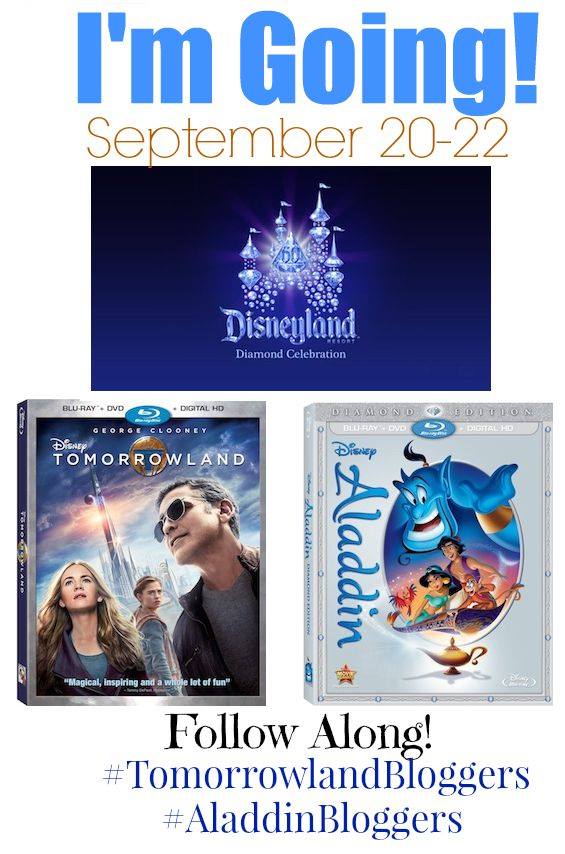 I really enjoy going on these Disney press trip because it's fun to learn insider info on the movies we are covering. This time around we are focusing on Disney Home Releases (read: blu-rays)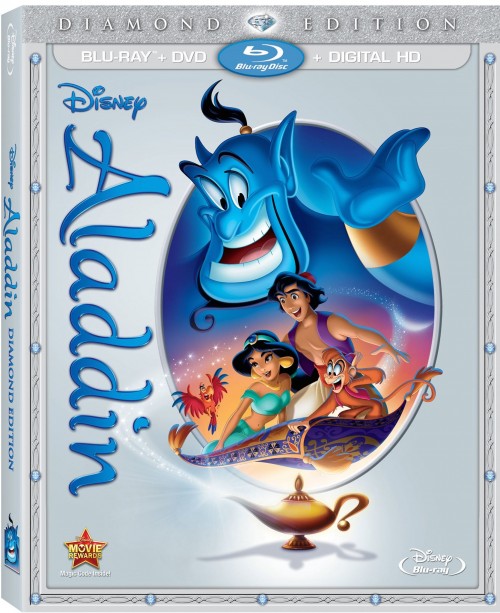 SYNOPSIS: Climb aboard for a magical carpet ride with nonstop laughs, action-packed adventure and Academy Award®–winning music that will make your heart soar (1992: Best Music, Original Song, "A Whole New World," Original Score). Now for the first time ever, a whole new world of Walt Disney Animation Studios' Aladdin is revealed in a whole new way on Blu-ray and Digital HD—with never-before-seen bonus!

With the help of a hysterically funny, shape-shifting, 10,000-year-old Genie, street-smart commoner Aladdin and clever, confident Princess Jasmine join forces against the evil sorcerer Jafar to put an end to his plans to take over the kingdom!
Aladdin is coming out of the vault in the Diamond Edition release. This movie will first be out in Digital HD and Disney Movies Anywhere on September 29. The Blu-ray combo will be available October 13.
We (the group of bloggers heading on this trip) are lucky enough to be interviewing Aladdin Genie Animator, Eric Goldberg!! How exciting is that?
If you have questions about Aladdin, the animation process or specifically the Genie, please let me know so I can ask while I'm there.
SYNOPSIS: Dreamers Wanted…Disney invites you to an incredible world of epic imagination where anything is possible. Buckle your seat belt, as the director of The Incredibles takes your family on an action-packed thrill ride.

Join former boy genius Frank (George Clooney), optimistic, science-minded teen Casey (Britt Robertson), mysterious Athena (Raffey Cassidy) and the brilliant David Nix (Hugh Laurie) in a world of pure Disney imagination. Tomorrowland transports you on an inspiring and magical journey of wonder and adventure to a place where if you can dream it, you can do it.
Also on the schedule is interviewing Tomorrowland Director, Brad Bird and Tomorrowland talent, Thomas Robinson (Young Frank) & Raffey Cassidy (Athena). Pretty exciting right?
If you have any questions about Tomorrowland, the idea, and actors we're interviewing them please let me know!
We are also going to spend the day at DISNEYLAND! This year is the 60th Anniversary celebration so we'll be interviewing some special people at Disneyland. Disney Dreamer and Entrepreneur, Mike Goslin (VP of Production and Content at Disney Consumer Products), Disney Dreamer, Charita Carter (Producer at Disney Imagineering), and lunch hosted by an award-winning Disney Chef. After the work, is a day of fun in the park!
I invited you to follow the journey of my fellow bloggers and myself on this incredible trip. You can follow me on Instagram, Twitter and Facebook or you can also follow the hashtags #TomorrowlandBloggers and #AladdinBloggers.