Disclaimer: I visited this attraction as a US Family Guide blogger. I received my tickets complimentary in exchange for my review. All opinions and experiences are my own, yours may differ.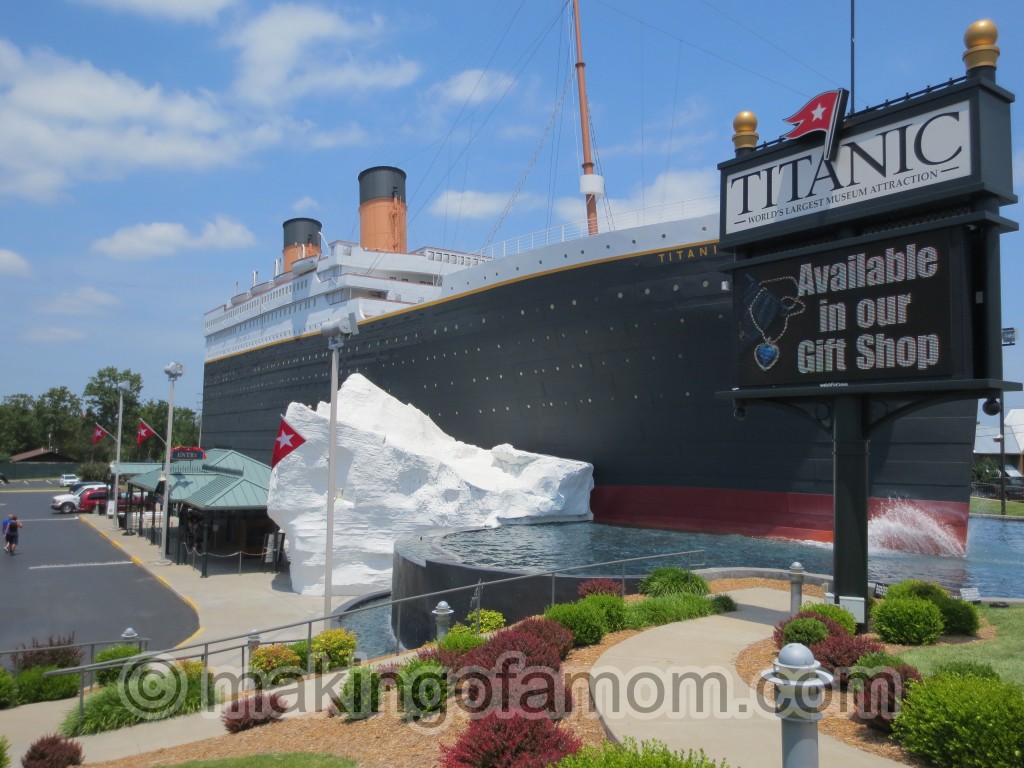 It is quite the site to be driving down Highway 76 in Branson and come across this huge ship! Once we saw this we were very exciting to enter the Titanic attraction! We were lucky enough to show up at a time when Molly and Carter – the Titanic attractions mascots- were also there visiting.

There were several exhibits that we were excited for, some of them are not always present. There was a cute exhibit about the dogs of the Titanic, this is why Molly and Carter were chosen to be Titanic Mascots. There was also a special exhibit about the children of the Titanic and one about Molly Brown.
You start your titanic journey by receiving a boarding pass. On the boarding pass is the name, age and information about one of the real passengers that sailed on the Titanic. Throughout the attraction if you pay attention you can find your person and learn about them. Towards the end of the attraction is a wall that tells you whether your person survived or perished. Children receive a boarding pass with the information about one of the children on board the Titanic. Their card is also interactive. It features several questions and scratch off answers. If your kids read the plaques and listen to the tour, they will learn the answers to the questions on their card.  The Titanic attraction also offers an audio tour. There is an adult version of the tour which offers more detail about the pictures, artifacts and other things in the museum. There is also a child version of the audio tour. This version is shorter and filled with fun facts the children enjoy.  I loved having both of these options available. My daughter loved listening to the children audio tour and learned a lot of interesting facts.
One new and very special exhibit is called the Children of the Titanic. Here, there are pictures, artifacts and details about every child that sailed on the Titanic. It was very sad to read about these kids and see their pictures. I think that most survived, but still horrible!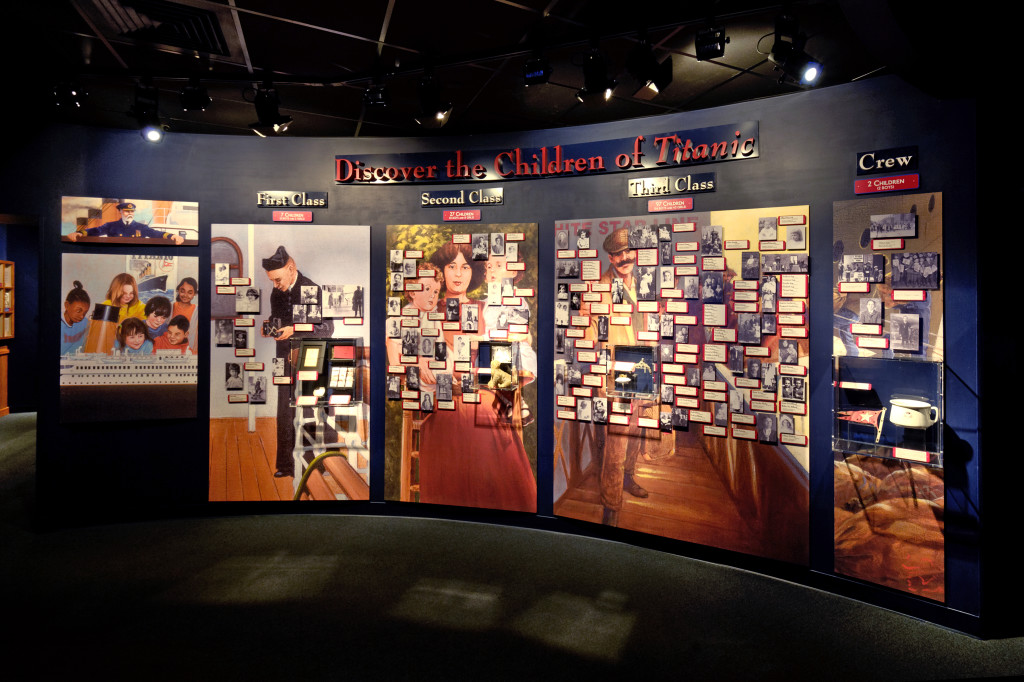 The staff at the Titanic was amazing! They all were dressed as crew members and played their characters well. I was very impressed with how knowledgeable they were. You could ask them any question about the Titanic and they knew what they were talking about. It was fun to have them be in character to get you really into the spirit of the Titanic.
Some of my favorite parts of the attraction were the full sized replica of the "Grand Staircase." It was beautiful. I can image being on that lovely ship and walking up and down that beautiful staircase (although I wouldn't have been able to afford a first class ticket!)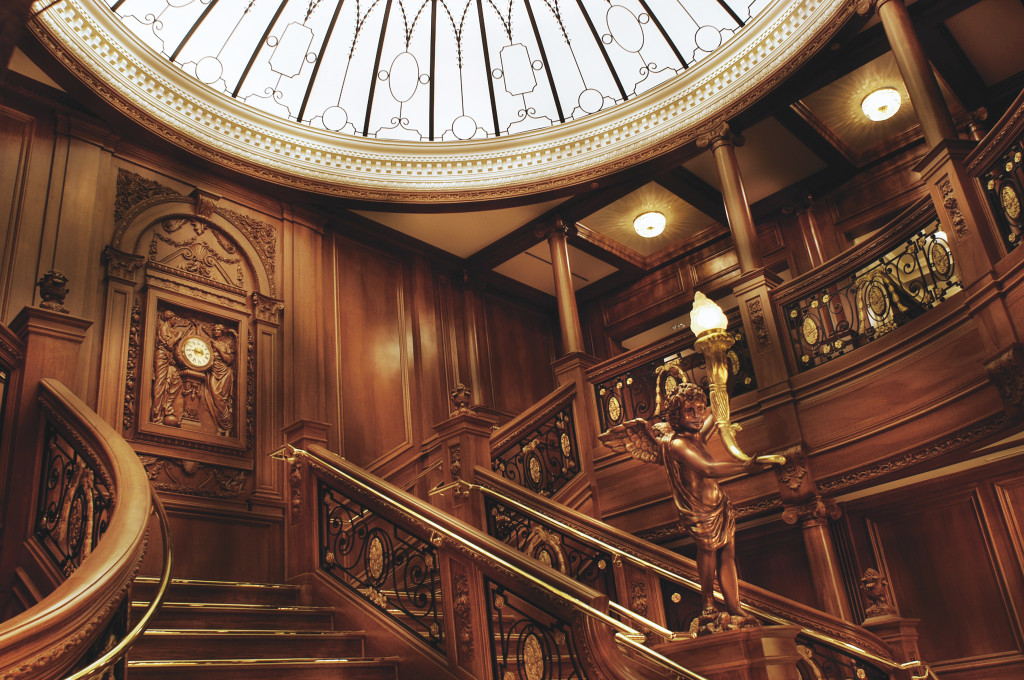 I also loved the exhibit filled with Molly Brown's items. Her great granddaughter lent items to the museum for all to enjoy. There was also an area on the ship that had a bucket full of water that was the same temperature as the Atlantic sea the night the ship went down. There was a timer so you could time how long you could stand to have your finger in the water. It was cold and none of us lasted much more than 30 seconds. I can't image how those people must have felt floating in that freezing water.
Towards the end of the attraction is an animated polar bear on a TV screen you can talk to. The bear named "Polar" belonged to Master Robert Douglas Spedden who was 6 years old when sailing on the ship. My son happened to have that character and it was very sweet when Polar found this out. He told my son how much he had missed him. This bear was very tricky because he would ask questions and answer questions very accurately. I have a sneaking suspicion there was a real person behind that bear! 🙂
This attraction was very fun. For being a museum, my kids were thoroughly entertained and we remained in the attraction for 3 hours. We had a lot of fun participating in the interactive activities, listening to the audio, watching the videos they had playing and enjoying the whole experience. In the end it turned out that all of our people survived except my husband's. This was such a fun family time and we made some fun family memories! This is a definite MUST for Branson!