My cruise was sponsored by Tours4Fun.com but all opinions are my own.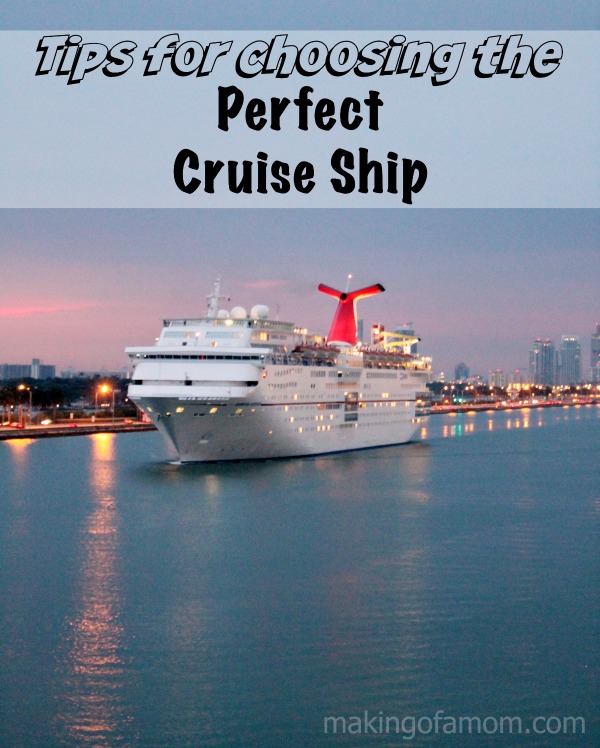 When it comes to vacation we all want different things. My perfect vacation wouldn't be your perfect vacation. When  
planning a cruise
, though I firmly believe
a cruise is the perfect vacation for the whole family
because of the huge variety of activities, every ship isn't the perfect ship. Of course there are tons of things to consider like date, price, location but don't forget to consider the ship.
If you are new to cruising (don't miss my tips for first time cruisers), or even experienced but never took the ship into consideration when planning your trips, listen up. Here are some tips for picking the perfect cruise ship for your family and your vacation.
All about the size! If you haven't noticed, ships are getting bigger and bigger. Some of the newest ships are called "mega-ships". If cruise ships weren't floating communities before, they certainly are now. A huge ship with an enormous amount of activities (and don't forget people!) might really appeal to some, but others still want an intimate vacation experience where they get to know their fellow travelers and ship crew.
The age of the ship matters, yet it doesn't. Most ships cruising today will be a little older (built in the early 2000's) but are usually refurbished every 5 years or so. With changing technology ships undergo transformations that make them almost new. There is one catch. Older ships (we're talking those build in the 1990's) can only be refurbished so much. Their size is usually pretty small including public spaces and cabins.
 On the cruise I went on a few weeks ago I was sailing the Majesty of the Seas. This is a very old ship with tiny cabins. Now any cruiser knows cabins are small anyway, but these were exceptionally small. Because the ship is 20+ years old they can't fix that when they refurbish. For this reason, CHECK THE DATE on the ship. I personally wouldn't recommend Majesty of the Seas because of the size of rooms, plus the floor plan of the ship wasn't very user-friendly, BUT it did have one thing I LOVE – Deck 7, you could walk all the way around the ship outside! It's not as crowded as the upper decks where the pools and food is. I love having that deck, with chairs to sit and lounge and to get a 360° view.
If traveling with children, check the activities. Most (perhaps all) cruise lines have a children's program for children 2+. Disney's children's program might extend beyond 2 years old. Royal Caribbean and Carnival offer an hour a day most days for "family play" so that your babies and toddlers can play with the toys on the ship. It's nice that they allow this time because with packing, I never bring a lot of toys on board. This hour a day has saved me on many occasions.
 Besides the kids camps, make sure the ship has plenty of activities you want to do. Again, older ships might not have mini golf, the jumbo TV for poolside movies, or a rock climbing wall. Make sure you check the ship layout before booking to make sure there is plenty to do on board. I like to have ships that have a waterside, poolside TV, mini golf, rock wall and sports court. Some new ships also have a movie theater, ice skating, bumper cars, zip lining, surf experience, carousel, and more!! Make sure the ship you are choosing has everything you want!
When I am planning a cruise for my own family, checking out the ship is one of the first things I do. A ship can make or break your vacation so it is important to see what the ship offers you. Tours4Fun.com has launched a new part of their site specifically for cruises!! Check it out and see if they can help you book the cruise of a lifetime!
Tours4Fun also books tours across the world. After we got off our cruise, we took a Segway tour of the Miami Art Deco District. It was a ton of fun! Tours4Fun want to help you plan your next family vacation!