Disclosure: I was given free tickets for review purposes. All experiences and opinions are my own. Yours may differ.
We have been to many theme parks over the course of the last 12 years of our marriage, not to mention all the theme parks we went to growing up with our own families. Each theme park seems to be set up basically the same way. A section for games, places for shows, some big roller coasters and a section for kiddie rides. The people behind the design of HersheyPark are geniuses! Read on to find out why…
We reluctantly checked out of Hershey Lodge and headed over for a fun day at HersheyPark. HersheyPark is THE most amazing theme park you will ever go to (well, within my scope of theme park attendance which includes several in other countries). HersheyPark is NOT just a theme park. It is a Theme park, a waterpark and a zoo! When you purchase your admission ticket to Hershpark you are getting all three parks! This is why I recommend you get a several day pass because it will take you 2-3 days to do everything. Also worth noting, you can purchase just a ticket to the zoo if you wish.
Ok, so back to the geniuses that designed HersheyPark. Usually a theme park has a kiddie section full of kids rides. That section is the only place you will find kiddie rides. In HersheyPark, however, since it is so huge and expansive there are little pockets of kiddie rides sprinkled throughout the whole park. This is brilliant and so nice!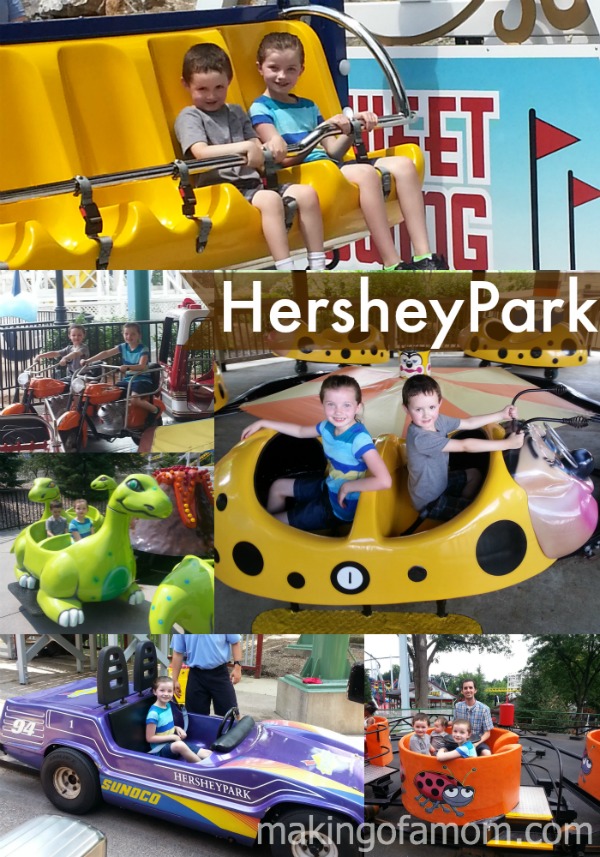 When you first enter the park you come across the first section of kid rides. Some of the kid rides allow small children with the help of an adult, others don't. There is a good mixture of both and so it works well. Continuing on through the park the adults in your party will probably want to head to the big rides. When we visited it was just my husband, my children and myself. We didn't have anyone else to watch the kids so my husband and I had to take turns to ride the big rides. Normally this is quite a chore, but at HersheyPark I just took the kids on the kiddie rides near the big roller coasters my husband wanted to go on. When it was my turn he just repeated the rides. I loved that we could all travel throughout the park together going on the big rides because there were rides for our kids everywhere we went. I love that we didn't have to stick to the kiddie section and run back and forth. I have never been to such a well laid out theme park.
In the middle of the park is the waterpark. We didn't go to the waterpark but we did stand in the splash zone for one of the rides to help cool off. We also enjoyed an ice cream cone right next to the waterpark and checked it out while we slurped our ice cream.
Off to the side of the park is Zoomerica. You can easily access the Zoo from inside the theme park or vice versa. There are ticket takers in the tunnel to make sure you have tickets to get into the theme park from the zoo. We also didn't have time to experience the Zoo, though, we did see some of it when we rode on the monorail.
Visiting HersheyPark is a MUST! It was so much fun for the whole family. My husband and I easily did some big rides and my kids rode dozens kid rides. Since the park is so huge there weren't long lines for anything. I'm sure there is a busy time, but still, the park is huge so there is a lot of space for all the guests to spread out and enjoy the park.
Another thing I want to mention that I was really impressed with was the food throughout the park. Of course there dis tradition "park food" with hamburgers, chicken fingers and fresh fries, but there is also so much more. You don't have to settle for "park food" here. Some loaded french fries caught my eye and we tried the bacon, cheddar, ranched loaded fries. There was also salads, wraps, Mexican food, Italian food, sandwiches and so much more. You could definitely have some incredible meals throughout HersheyPark.
By the time it was time for us to go and move on to our next road trip destination we were thoroughly satisfied. We rode so many rides, ate some amazing food and had a blast creating lifetime memories as a family. HersheyPark has easily become our favorite theme park!
Have you been to HersheyPark? I'd love to hear about your experience.