Disclosure: I received a free book for review in my Holiday Gift Guide. All experiences and opinions are my own, yours may differ.
I love Christmas time. I love that people generally are a lot more friendly and everyone seems happier. I love the colors of lights and ornaments and all the festive decorations. I like that the spirit of giving is more prominent. I like that there seem to be more opportunities to help others.
The Sparkle Box review and giveaway is a kick off to the Making of a Mom Holiday Gift Guide! I wanted this to be the starting place for my gift guide because this book reminds us of the true meaning on Christmas. While you are planning your gift lists and planning all your holiday food let's remember the true meaning of Christmas. Jesus, our Savior was born. He prepared the way and made it possible for us to return to live again with Him and our Heavenly Father. When we serve others and help those in need this season we giving gifts to that Christ child. The Sparkle Box is all about giving a gift to Jesus on Christmas morning. Throughout the holiday season the family in the book serves others, gives to those in need and helps where they can. Each of those acts are a gift to give Jesus. These acts help us remember why we are celebrating Christmas. The decorations, gifts and Santa are all fun things, but not the real purpose of Christmas.
Over the next two months I will be talking about some fantastic products that would make great gifts. I'm excited to share them with you!  But because I am a big believe in remembering WHY we celebrate Christmas, I wanted to start here, with The Sparkle Box.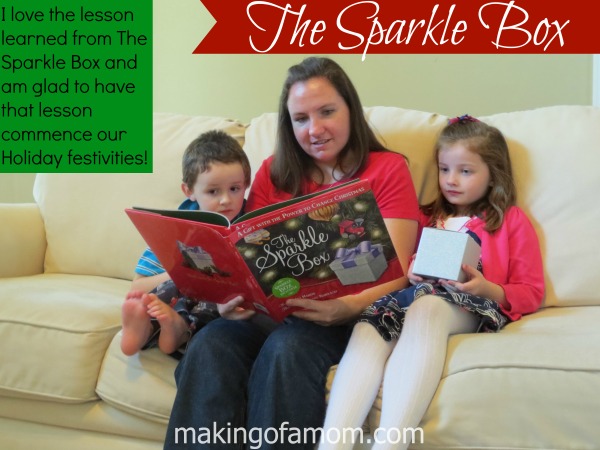 This book has a beautiful lesson and lovely illustrations. Included in each book is your own sparkle box. My kids are very excited to write our acts of kindness, service and good deeds down and place them in the sparkle box as a gift to Jesus. On Christmas morning, before we open our own gifts we will open the sparkle and read our service. We can remember all the good things we have done and how much we have helped Jesus by helping others. I'm glad to have this fun activity to keep our holiday centered on Christ and start a new tradition!
I'm very happy to tell you I have a copy of The Sparkle Box to giveaway! One lucky ready will get their own book and box to enjoy! This giveaway will run from  November 1 through November 8. This giveaway is open to US residents ages 18+. Making of a Mom is not responsible for prize shipment. Winner will be verified, emailed and have 48 hours to respond before a new winner is chosen, no exceptions. Please enter through the rafflecopter below. Good luck!