Disclosure: Stacy's Bake Shop provided me free samples to facilitate this review and giveaway. All experiences and opines are my own. Yours may differ.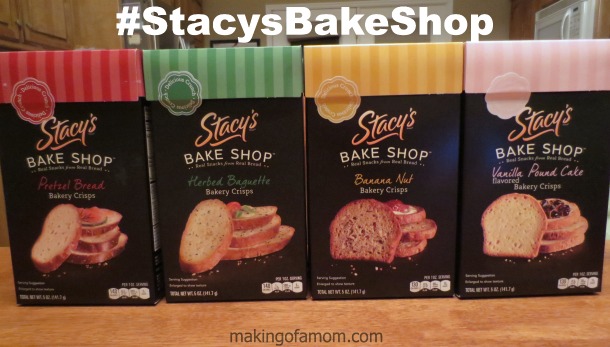 Planning a holiday get together can be a little bit stressful. There are so many things to plan like cleaning your house, scheduling a date when everyone is available, what activities you will do and what food you will serve your guests. Stacy's Bake Shop has your party snacks covered! The great things about these Stacy's Bake Shop Bakery Crisps is that there are sweet and savory options.
Stacy's Bake Shop Bakery Crisps are made from bakery breads that have been twice baked to provide a yummy crunch! These crisps are so good alone with you can pair them with dips, spreads or fruit to add some flare. I decided to try adding some toppings to my crisps.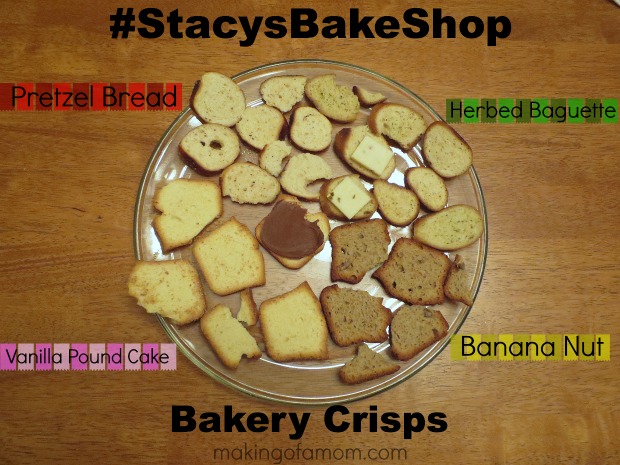 I decided to pair my Vanilla Pound Cake Bakery Crisps with a chocolate cream cheese spread. It was AMAZINGLY good. Yum, I seriously almost ate the whole bag in one setting. The Vanilla Pound Cake crisps are super good on their own too. I image fruit would also be a delicious pairing for the sweet crisps.
I decided to pair the Herbed Baguette Bakery Crisps with some pepper jack cheese. I thought that would make a good savory snack. Cheese are crackers are usually a big hit, so this is like the gourmet version of that.
I like the Banana Nut Bakery Crisps alone because they already have a fruit and nut flavor. I supposed the chocolate cream cheese spread would be good (heck, it would probably be good on all of them!) but I'll take them plain.
The Pretzel Bread Bakery Crisps are tasty. In true pretzel fashion they are salty, a little too much for me to have plain. With cheese or a dip the salt isn't so over powering and they are yummy and crunchy. My kids, on the other hand, love how salty they are and gobble them up!
Giveaway
Great news! 5 Lucky winners are going to win a Stacy's Bake Shop prize pack. Each prize pack will feature one box of each flavor for a total of four boxes. This giveaway will run from December 9 through December 16. This giveaway is open to US residents. Making of a Mom is not responsible for prize shipment. Good luck!