Disclosure: I received this item free of charge from The Swiss Colony.  No monetary compensation was received or offered, nor was I under any obligation to write about this product.  All opinions expressed are my honest thoughts.  I am not offering any sales or taking orders for this item.  I will not receive any compensation in connection with any sales of this item.
One important aspect of the holidays is FOOD! Food is important because it is tradition. It encourages conversation. Bonding takes place over food. I have some tasty goodies to add to your holiday celebrations this year. The Swiss Colony is an amazing site that sells a huge variety of taste treats. I was fortunate enough to get to review a couple of their delicious offerings.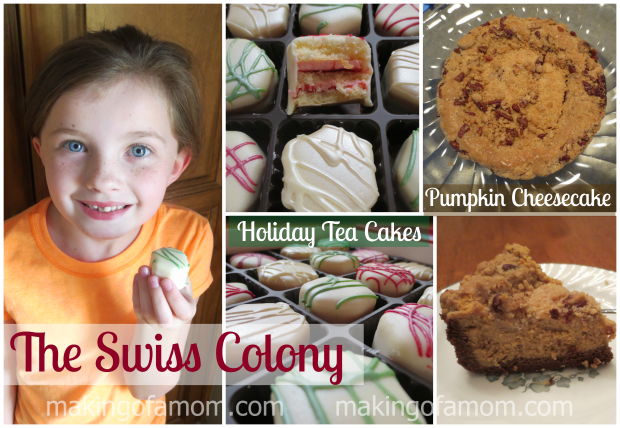 I opted to try the Holiday Tea Cakes and the Pumpkin Cheesecake! They were both amazing, and I don't mean just good, they were seriously amazing!
Holiday Tea Cakes
I'm not sure if everyone has the same stigma I do of little tea cakes or petit fours, but I tend to think of them as stale and yucky. Perhaps one too many old tea cakes at grandma's house I presume. These, however, were SO GOOD! They were beautiful with a lovely pearl sheen on the hand applied icing, and so soft and tasty inside with fruit filling and buttercream. They came in three flavors
Raspberry
Blueberry
Peach
This box of 24 Tea Cakes is $19.99 on The Swiss Colony website.
Pumpkin Cheesecake
This rich, smooth and delicious pumpkin cheesecake was amazing.  I features a molasses crust and a pecan and brown sugar streusel on top.  The wonderful things about this cheesecake is that it is so flavorful you only need to cut small pieces to get your fill, which makes it last longer.
This delectable cheesecake is $31.95 on The Swiss Colony website.
Once these treats arrived at my house I invited some friends over to enjoy them with us. Everyone was agreed that the tea cakes were scrumptious and they got gobbled up. We (the adults, we didn't share this with the kids) all sat and enjoyed the cheesecake together. I thought it was so good! Definitely one of my favorite cheesecakes I have ever had!
I encourage you to check out The Swiss Colony site! They have items for every holiday! Their prices are completely reasonable and the quality superb. I'm so glad to now be introduced to The Swiss Colony. I'm thinking this will going to become a regular product in our home. They have a lot of other yummies I want to try out such as chocolate, cheeses, meats and other cakes.
Speaking of introductions, one luck reader is going to become acquinted with The Swiss Colony by having the opportunity to win the same desserts I got to try. Making of a Mom is not responsible for prize shipment. This giveaway is open to US residents ages 18+. Winner will be verified, emailed and have 48 hours to respond before a new winner is chosen, no exceptions. Please enter through the rafflecopter below. Good luck!