This post is sponsored by Children's Mercy as part of the #CHMMoms panel. All opinions are my own.
As the temperatures warm and kids are getting out of school and moving their play outdoors, emergency rooms visits increase 20%.  One minute children are playing fine and the next minute they are being rushed to the hospital with a gash in their head. Ok, that might be a little drastic, but seriously kids can get hurt in a number of different ways but with some simple rules and boundaries put in place you can decrease those odds.
Last summer we had our very first broken bone in our home and we aren't in a hurry to relive that. We also visited urgent care a few times. This year I might be a little more cautious so here are a few summer safety tips for kids.
Always Wear Protective Gear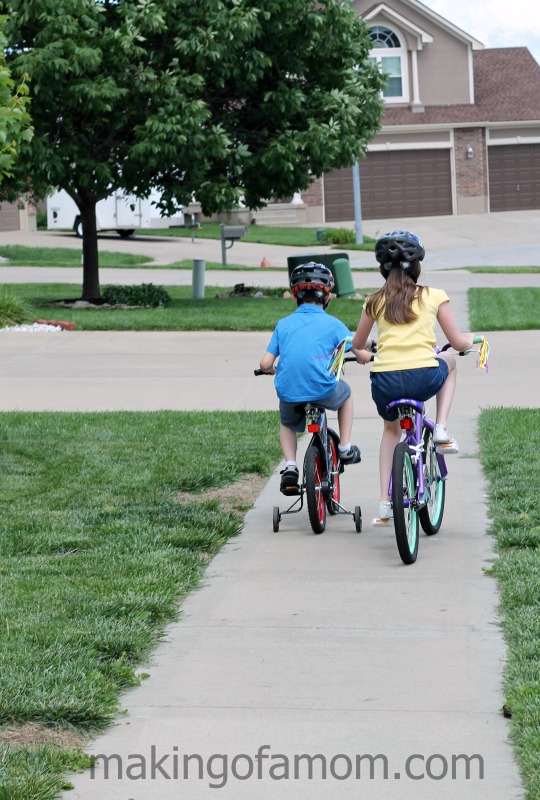 If your kids are riding their bike to the park or playing sports, it is important for them to always wear protection. Remember to get out the knee pads, helmets, and elbow pads. The more protection your kid has, the less likely it is you will be rushing off to the hospital. Make sure your kids know that even when you aren't around it is important for them to wear their protective gear.
If organized sports are apart of your summer, make sure your kids have the proper gear for that sport. Accidents during sports are no joke. Children's Mercy has an excellent, state-of-the-art Blue Valley Sports Medicine Clinic, should you need those services.
Get out the Sunblock
All too often kids end up in the hospital with severe cases of sunburn just from playing in the yard. You can never have too much sunblock on your kids. Make sure they lather up before heading out the door and reapply every two hours. If your child is playing in the pool, reapply every hour as the water can wash the protection off. Hats and swim shirts also offer great protection. 
Implement a No Running Rule
Running outside is great for kids, and that is a fact, but running near water, on wet pavement, or on rough terrain can be a tragedy waiting to happen. Allow kids to run in areas padded in grass, sand, or rubber, but implement a no running rule on pavement, rocks, or rough terrains. Plus, having your children wear shoes, sandals or some kind of footwear will protect against stubbed toes. 
Carry a First Aid Kit
Regardless of how many rules you implement or how good you watch your kids; they are bound to get a scrape or bump at some point. Make sure you carry a first aid kit with you wherever you go. Keep Band-Aids, alcohol swabs, and antibiotic ointment on hand.
Remind your Kids of Stranger Danger
One of the scariest things about our world, today is that you never really know what a person is capable of. There are many people out there that take joy in hurting other people. Remind your kids about stranger danger and how to prevent bad things from happening by being cautious.
Keep Your Kids Hydrated
As kids are out having fun, they may forget to come in and get a drink. When the sun out and kids are playing, dehydration becomes a concern no matter where you are. Make sure to bring out a cool glass of water, lemonade, or Gatorade every hour to keep your kids hydrated and safe from heat exhaustion or heat stroke.
Have Kids Check in Often
If your kids are old enough to ride their bike around the block or go to the park on their own, make sure to have a check-in schedule. This helps you keep them safe from the heat, from other people, and from getting into trouble. Have kids check-in every 45 minutes to an hour.
School is out for summer, and kids are looking forward to having fun. Keep them safe this summer by keeping these safety tips for kids in mind. I know you can't keep your kids in a protective bubble, but it is possible to take steps to help them be safe in their activities.
What other tips do you have for keeping kids safe this summer? Share some tips in the comments section below!
Get more Mom-to-Mom tips and information on the
Children's Mercy Mom's page
. Get everyday parenting tips from Children' Mercy on
Facebook
and
Twitter
.