I received products for review purposes. All opinions are my own.Yours may differ.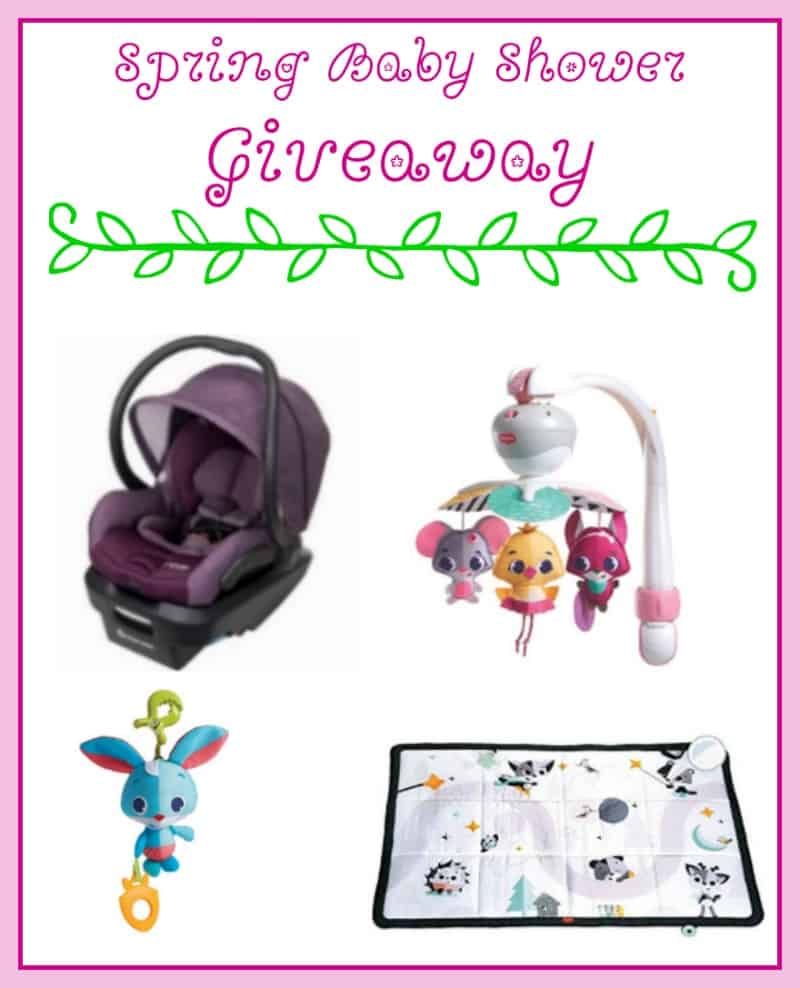 Spring is the time of new life and natural beauty. I'm really looking forward to the lovely daffodils blossoming in my yard and new leaves popping from the trees. It's also a great time to have a baby shower giveaway! I've teamed up with a couple baby product brands to bring you an adorable giveaway filled with baby items worth $375. Read on to learn what you have a chance to win!
Tiny Love
Tiny love is a company that sells on-the-go developmental toys for baby's. I have a few of these toys from years past and they are adorable and fantastic. Up for grabs as part of the giveaway are the Tiny Princess Tales Take Along Mobile, Magical Tales Black & White Super Mat, Meadow Days Thomas Jitter. 
The thing I love about this mobile is that it is easy to transport. Put it on your crib, or unscrew the bottom and put it on your car seat. You can even put it on a church pew, stroller, table, chair, pretty much anywhere. The bottom of the mobile opens up pretty wide so with crewing and unscrewing the bottom it can adjust the width and fit many, many places.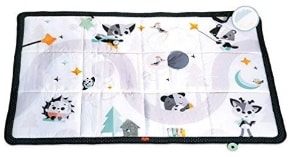 This easy to take on-the-go playmat features 8 activities for baby to explore. The mat folds up, buttons and has a handle for easy carrying. I love these mats for little baby's that aren't quite mobile yet. It's perfect for tummy time.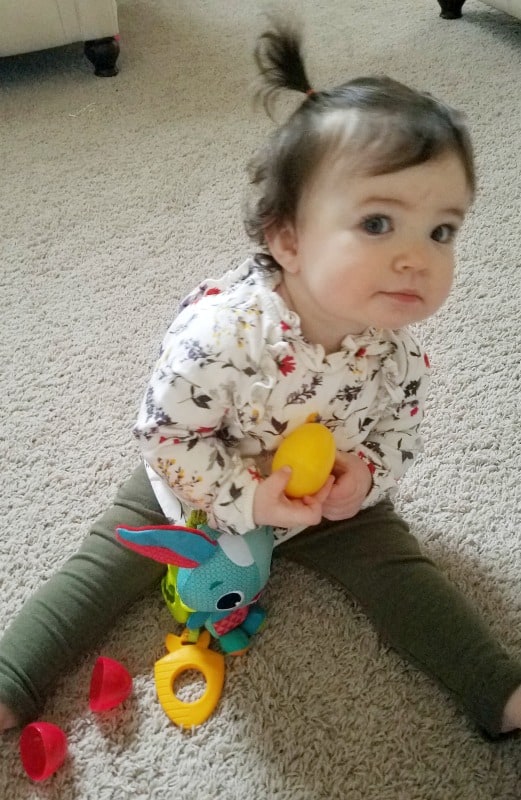 When my toddler was a baby she received the Meadow Days Thomas Jitter toy and loved it. It has a big "claw" that makes it easy to attach to most places. She loved snuggling the toy and pulling the string to have it jitter herself and the toy. The teether at the bottom of the toy was also perfect for her. 
Maxi-Cosi
Maxi-Cosi's Mico Max Plus infant car seat is perfect for babies up to 30 pounds. This car seat has some incredible features like Air Protect Superior Side Impact Protection, easily removable fabrics so you can wash them, a Max Shade canopy with a zip out extension, red/green indicator to help with correct installation, 5 point harness, adjustable base and it fits with over 50 strollers! I love that you don't need to buy the whole travel system with this car seat, it might fit in the stroller you already have! This really ncie car seat is valued at $299! 
If you are excepting, or know someone who is, enter now for a chance to win this HUGE spring baby shower giveaway bundle! One lucky winner will receive one of each of the items listed above. This giveaway is open to US residents ages 18+. The giveaway will run from March 19 – March 29. Good luck!!