Since Halloween is approaching and fall is in the air I decided to make some festive treats! I used a box cake mix. I poured half of the batter in a circle cake pan to make a spiderweb cake and the rest into cupcake papers so I could make individual spooky cupcakes.
I happened to have everything I needed right at home.
1 Cake Mix
Cupcake Papers
2 Tubs of Frosting one Chocolate, one White (my white was already shaded green from the Snake Cake)
Tubes of Decorative frosting and Gel
Once I made the cake and cupcakes according to the box directions I let them cool. I frosted the cake brown and used white decorative frosting in tube. I squeezed the frosting into a swirls on the cake and used a knife to "cut in" to make the lines on the cake. I found aplastic spider from our Halloween decorations  tub and BAM! cake done. Easy peasy!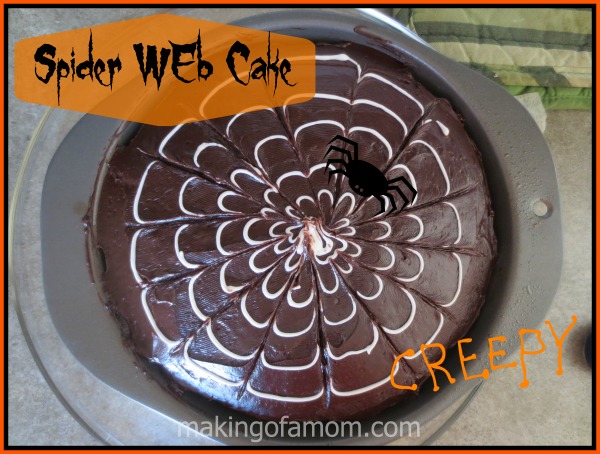 Next I enlisted the help of my kids to help me think of spooky Halloween designs. I had some red and white decorating gel to help, as well as 2 different kinds of white frosting in a tube. I also had a tube of orange frosting in a tube. My daughter made the apple ninja cupcake, that was her scary Halloween design. I squeezed a little bit of white frosting onto a plate and dyed it yellow to make the candy corn cupcake. The spider, ghost and frankenstein were made from the black gel frosting. I used the orange tube frosting for the pumpkin with black gel for accents. The mummy I used one of the thick white decorator tubes and just made strips of frosting to make it look like his wraps. It was pretty cute I think.
Are you making Halloween treats this year? What other Halloween designs could we make?