Disclaimer: This interview with Jodi Benson was part of the trip to Los Angeles sponsored by Disney. All experiences and opinions are my own. Yours may differ.
While in Los Angeles for the Disney Planes Premiere we also had the opportunity to see a lot of behind the scenes of The Little Mermaid by visiting the Animation Research Library and seeing some original artwork as well as getting a glimpse at the upcoming new Little Mermaid merchandise. We also had the opportunity to interview Ron Clements and John Musker who were the writers and directors of The Little Mermaid. Following this interview with everyone we broke into smaller groups to interview them separately in a smaller group setting.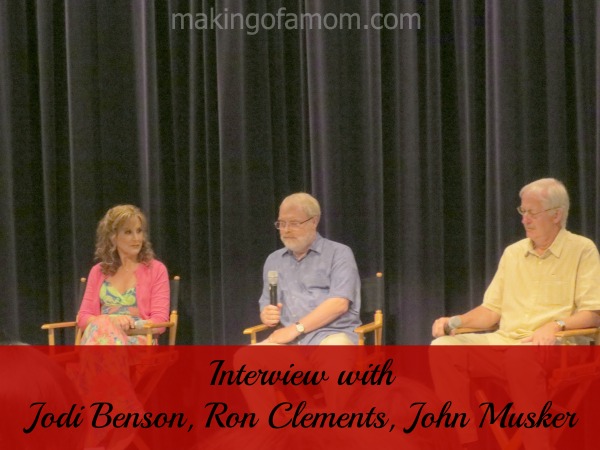 While we were in a big theater room with everyone we got to hear the story of Jodi getting the part of Ariel. It was interesting to here her perspective on how it went down and then listen to Ron and John talk about how they remember it. From Jodi's side of the story it went like this: She was working on a Broadway show with Howard Ashman (who wrote the music for The Little Mermaid) at the time that was supposed to be very successful but ending up only lasting 6 weeks. Disney had approached Howard to write the music for The Little Mermaid and according to Jodi
I think Howard just felt, um, sorry for all the girls in the show that were about to lose their job. So he gave the entire cast an opportunity to audition for The Little Mermaid, and we didn't know anything about it except it was an animated feature film.
She went to the audition and didn't really know what to expect since she hadn't done an animated film before. She said she went to the bathroom and talked to herself in the mirror just trying to figure out how to read the lines. She had heard a tape of Howard singing a little bit of the music for The Little Mermaid and had learned that if she just mimicked him she would succeed. Her plan payed off and she got the job!
From Ron and John's perspective they had been interviewing a lot of people in Los Angeles for the roles but couldn't find the right people. Howard then decided that should expand their search to New York as well. This is how they were able to find Jodi Benson and Sam Wright who played Sebastian.
One thing that really stuck out to me with talking to Jodi Benson is that many times she mentioned that it was such a blessing and that God had this perfect path for her that she didn't even know she was going to take. I love that although she has found incredible success in her life her views are faith based. She was planning on staying with Broadway and focusing her life there, but God led her to voice overs and a completely new career path that she loves so much.
It was asked where she was when she got the news that she had gotten the part of Ariel. She was at a pay phone and called her agent. Her agent told her that she had gotten the part of Ariel. Then she said:
 What?  It's like a disease. Remember The Little Mermaid that, I was, like, I didn't even remember. I really didn't. She said, well, you got it. And I was, like, oh, that, that's cool. That's great! You know, wonderful. And you fly out to LA, and you get started, but when I was telling my friends and family what I was doing, they were all, like, but you're not in the movie? I was, like, We will see your face on the screen? Like, no, it's kind of voice over, and, see, back then, animation voice over was what you did at the tail end of your career as it was going downhill.
Before we split up into groups for more interviews someone asked Jodi to sing for us. It was amazing. There were goosebumps and tears from everyone in the audience.
It is was incredible honor to be in a classroom with Jodi Benson and about 15 other bloggers. It was so exciting to be able to ask her questions we have been dying to know our whole lives, as well as some questions our readers wanted answers to.
It was asked of her if she would give up her voice for love and if she believed in true love.
Yes, I-I would, it would be really hard, because singing is such a huge part of my life and the way that I communicate that, yes, for my husband I would.
Jodi has been married for almost 30 years and so her family and her husband is very important to her. Her family actually joins her on stage at concerts some times. She said there is a lot of singing in their home and music is important to all of them.
Jodi said that her son used to struggle with her singing Ariel songs because he equated that to her working. He would want her to sing other songs and just keep the singing special between them. He has since grown and now realizes there is a place for his mom to be Ariel and Mom. It was very cute the way she talked about that. Her kids, of course, LOVE Disney and have enjoyed the many events they have gotten to participate in as a result of her being the voice of Ariel.
Someone asked Jodi what Disney movie was "her movie"?
Cinderella. Yeah, Cinderella was my movie. And, um, I just loved everything about it. Exactly the fact that, you know, she-she comes from one area and she wishes for something more. And-and I think every little girl, you know, and even a young boy as well, wishes for that next step or the dream or whatever that may look like. Um, so that was, that was my movie, yeah.
Jodi was asked a tough question. "What is it like being a Disney Princess?" She replied "Amazing." I bet! She talked about how happy it makes her to see little girls wearing Ariel t-shirts or carrying around the doll of wearing an Ariel swimsuit. How everyone knows who Ariel is. She said it is overwhelming in a good way to think about how this character will live on, long after she is gone, Ariel will still be there. My favorite quote from Jodi of the whole interview was this:
Grateful is the word that I pretty much come up with whenever I stop to contemplate it.
The last thing we talked about with Jodi was about stories of how The Little Mermaid has impacted people. She says she gets a lot of fan mail and reads them all because she loves to hear the stories. She loves to help other so she has often called sick children or children about to die because they wanted to talk to Ariel. She has helped countless kids battling horrible diseases because the connected with the Ariel character. She has also heard stories of children who couldn't speak, but loved The Little Mermaid and watched it enough that the film helped them learn to speak. She has been so impacted by these life changing stories.
What a huge blessing it was for me to be able to have this close up experience meeting Jodi Benson. She is an amazing person. She continues to work with Disney as the voice of Ariel, Barbie and several other characters.  The Little Mermaid Diamond Edition comes to stores on October 1.