Excitement is building as October 1 approaches. October 1st is the release of the Diamond Edition of The Little Mermaid and half of the reason I went to California last month. As part of an incredible whirlwind 2 day event besides going to the Disney PLANES premiere we got to interview Ron Clements and John Musker the writers and directors of The Little Mermaid. It was interesting to learn some fun facts about them and about the process of making The Little Mermaid.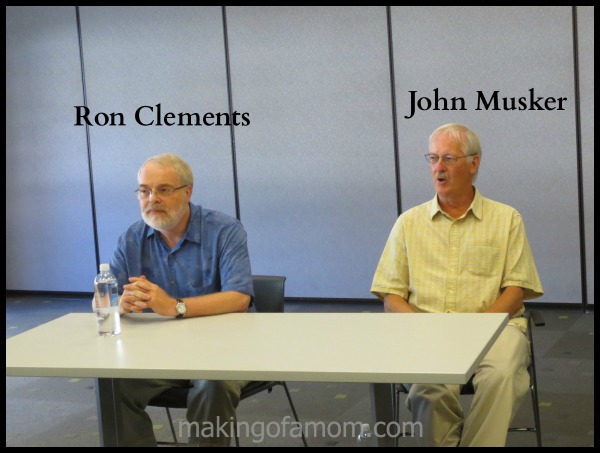 First of all Ron and John are good friends. In fact they joke that they have been "married" for about 28 years. Being such good friends and having complimentary taste helps them work together on scripts and movies. They are able to easily agree on casting actors and voices because they see eye to eye about those things. This complimentary styles helps with writing. John said " Ron's more big on structure, and I'm a little bit more dialogue oriented. So we kind of dovetailed, a little, we weren't doing exactly the same thing, although certainly he wrote some very funny dialogue and I occasionally have a structural idea. But… the sum is somewhat more than the parts."
It was also asked what they would want to be remembered for. After making the joke that he isn't sure he wants to be remember Ron said "that the work is appreciated." John added "that the movies we've done stand the test of time, that they live on beyond what we do. I think more so than my own name or something like that. The fact that the characters and the stories still resonate, I think that's pretty satisfying."
One thing we learned is that Ron Clements and John Musker are hilarious! They spoke of how animators are like anonymous actors. They have both moved their way up the Disney company to become writers and directors, but have held onto that anonymity. They talked about how Steven Spielberg can't go out in public and eat a decent meal because everyone recognizes him and wants to talk to him, but they can eat fine when out in public.
Another blogger asked if they could pick a favorite movie they have worked on or if that was like picking a favorite child? They agreed that it was like picking a favorite child since the movies take such a huge chunk of their lives. John said that for him he can separate it out to favorite parts about different films. He loved working on The Little Mermaid because it was his first time work with Howard Ashman. He liked Aladdin because of working with Eric Goldman and all the improvisation Robin Williams was doing. He liked Hercules because he worked with an illustrator he had idolized for a long time. John said they each provided him with their own happy memories, just like children do.
One thing I found amazing is that John talked about how they divide up film into which songs they each would direct and which sequences they would direct. It is amazing to me that two different people can go back and forth directing a film and yet the finished product seems whole and intact as if one person had worked on it.
Thinking about the characters of The Litter Mermaid, what if Sebastian had been British? What if there had been a dolphin character? Those things were possibilities. In the beginning drafts Sebastian was going to be a "stuffed shirt kind of a British major domo type"  but Howard Ashman thought that Sebastian should be Jamaican and with the popularity of Reggae music growing it would make the music more contemporary.  They had also discussed Ariel having a dolphin friend with a "take charge" kind of attitude but then thought they had too many characters so threw out the dolphin and gave some of his spunk to Ariel. They "wanted to create a heroine that was more active that Snow White or Cinderella" one that could "get mad and take charge."
The next question was about Ron and Johns memories of the original Hans Christian Anderson story of The Little Mermaid. Ron said that he had gone to a bookstore and read the story and that must have been his first time reading it because he was shocked when she died at the end. John said that he hadn't ever read the story until Ron had found it. So neither of them new the story until adulthood and then once they read it that is when they began working on it. Ron did give a little clue as to why they named The Little Mermaid Ariel. He said that Footloose had come out a few years before The Little Mermaid and he thinks subconsciously the name Ariel came from the girl in Footloose and stayed with him.
Have you ever noticed that in Disney movies most of the time there is only one parent? You rarely see a happy 2 parent family. We talked about that all the time at our house. Well that got brought up to Ron and John. John said "It's nothing personal. In Fairy Tales they often just have one parent, it's just a way of architecting the parental wall and a child breaking away." I was really glad they addressed this because I have always wondered why they did away with one parent.
It was such an amazing experience to being the same room with these two incredible men and hear their stories. We unfortunately only had about 15 minutes with them, but they were so friendly and could have told story after story all day! It was a once in a lifetime experience I will never forget! The Little Mermaid Diamond Edition releases on Blu-Ray combo pack on October 1.
Want to catch up on my Los Angeles Disney trip? Read about the new Little Mermaid products, learn about the new Super Buddies movie or check out my review of Disney's PLANES.