Disclaimer: I received the following product for review purposes. All opinions and experiences are my own. Yours may differ. If you click links in this post you will be taken to the sponsor's site.
I have a fun subscription service to tell you about. It is called SparkPlay. SparkPlay is a box full of fun for your kids and for you! Every month is a different themed activity with props, crafts, toys and/or other fun things. Each box has a video that can be watched on the SparkPlay site to help get your imaginations roaring! Since I have only tried one month I don't know if it is standard or not, but ours also came with a target practice sheet we could print to throw our bugs at, a coloring activity and training exercise.
This month our adventure pack, as they call it, was filled with all things bugs! We had some lady bug wings, bee wings, lady bug wand, bee wand, mesh net, dirt, seeds, a little pot for the seeds, storage bag, wall crawler and other little toy bugs.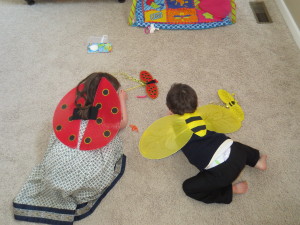 My kids have very large imaginations so we were immediately transformed into little bugs in the big human world around us. We talked about what we did when we saw bugs as a human? (my son squishes them) and then we talked about how we felt about humans now that we were bugs!
They loved playing with the other bugs and wall crawler. They were all stuck on my wall at one point during our first play session.
After they were done exploring the "garden" we decided to plant our seeds. We talked about the relationship between plants and bugs. Why bugs need plants and how some bugs help plants.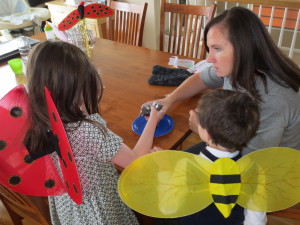 It has been so fun having these new costumes in the house. Whenever a brilliant idea hits they run to the SparkPlay storage bag and pull out their wings and wands and get back to playing! I love the creative and imaginative fun that comes from these props. I love that it allows them to come up with different story lines and see when the fun takes them. I think it is really neat that it doesn't take much to provide them with hours of entertainment. Just wings and wands have kept them occupied for hours!
I really love this service! I think it is unique and pretty fantastic! I love even more that SparkPlay is willing to give my readers their own adventure pack! This giveaway is open to US and Canada ages 18+. The giveaway will run for a week, from May 12 through May 19. Winner will be verified and contacted via email. Enter through the rafflecopter below. Good Luck!