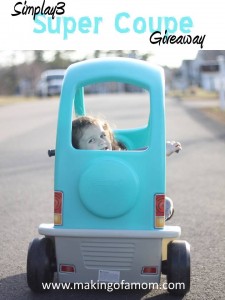 I received this product from Simplay3 in exchange for a blog post. All product reviews and opinions are my own.
Hello again!  Did you read my review of the Simplay3 Game Day Push About Helmet?  Read it here if you missed it.  Good news, I have another Simplay3 review for you today.  Let me first tell you a little bit about Simplay3.  So I am going to take this quote right from their website, "Simplay3 is a refreshing, new company that is comprised of a diversified, experienced management and design team that helped build Little Tikes and Step2 into leaders in the toy industry…"  Seriously this is amazing and totally makes sense.  I love that the people who started Simplay3 came from some of my other favorite brands. I truly feel like the quality of Simplay3 really matches up to these other great brands. They are sturdy, colorful and fun and everything children and their families love!
So today I am going to review another one of Simplay3's amazing products,
The Super Coupe Pedal Trike
. We were pretty excited to receive the Super Coupe Pedal Trike in a big brown box.  My children couldn't wait to open it up and put it together.  I knew that I had two kids who would be the perfect ages and sizes for this trike.  We were excited to get outside in this new spring weather and put the trike together and ride it all over the neighborhood.
We opened the box took out all the pieces.  I love how sturdy Simplay3 products are. They are colorful and strong and so inviting.  The assembly was so easy.  The directions were clear and to the point and there weren't millions of pieces rolling around to be lost in the hustle.  This assembly allowed our children to participate and feel like they were part of creating something amazing. They were so proud of all their hard work when it was done. It was really nice to just put it together in less than 20 minutes and have the kids immediately begin using it.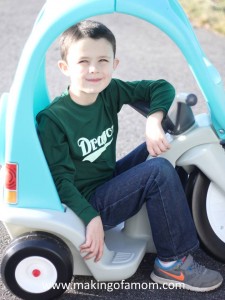 Both our almost 7 year old and 5 year old fit well in this toy.  The seat adjusts without screws or extra pieces and can quickly be switched from one position to the next as kids take turns using it.  The kids loved that it was a tricycle but shaped like a car.  We went cruising up and down the driveway and the street.  They were laughing and giggling the whole way. Of course our little guy was a bit too small to actually reach the pedals but he sure loved sitting in this blue car!
Would you or someone you know love one of these fun toys? Simplay3 has offered our readers two chances to win one of their ride on toys.  You don't want to miss this amazing giveaway!!