Disclosure: I received free product samples for review in my Holiday Gift Guide. All experiences and opinions are my own, yours may differ.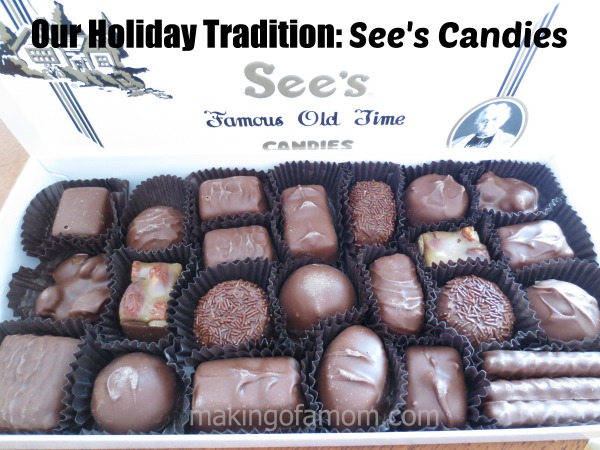 Growing up I could tell the holidays were approaching because there would be an increase of boxes of See's Candies at our house. My family is full of chocolate lovers, and nothing is more delicious than a box of See's Candies! Besides buying boxes of chocolates, you can also buy gift certificates in the amount of a pound box of chocolates to give as gifts. What a great gift, right?
For my review I decided to go with what I would consider the See's classics. Milk Chocolate assorted chocolates, Milk Chocolate Foil Balls and a 8 oz box of Truffles. See's Candies chocolate is so smooth, creamy and delicious. It is the superior chocolate brand in my opinion!
The assorted Milk Chocolates featured all of your favorites: Bordeaux™, Butterscotch Square, Caramel, Vanilla Nut Cream, Cocoanut, Almond Square and more! Which of the chocolates in this box are you favorites? We usually go crazy around some holidays and just buy boxes of Bordeaux! 🙂
This is going to sound mean, but I decided to get the foil balls for my kids so I wouldn't have to share the good stuff with the kids. Now solid milk chocolate from See's is wonderfully good, but I'd rather give them plain chocolate than sharing the yummy filled chocolates.
Truffles are special, even the name sounds special. It was so exciting to get a box of Truffles to try. We only get Truffles on a special occasion so we took our time savoring all of the Truffles. We cut each one in half to get a good look at it and then taste it. They are beautiful inside and out!
When you are making your gift list this year don't forget to include See's Candies. They make a great gift for family, friends, Bosses, co-workers, neighbors, teachers… basically anyone living and breathing. I'm putting this on my wish list! You can also try to win some!
See's Candies is giving away a $25 gift card to one lucky reader! This giveaway will last from November 25 through December 5. This giveaway is open for US Residents ages 18+. Winner will be verified, emailed, and have 48 hours to respond, no exceptions. Making of a Mom is not responsible for prize shipment. Enter through the rafflecopter below. Good luck!