Disclosure: I was provided a complimentary stay at the Sheraton on the Falls. All experiences and opinions are my own. Yours may differ. Please read to the end of the post as I want to share ALL of my beautiful Niagara Falls pictures with you in a slide show.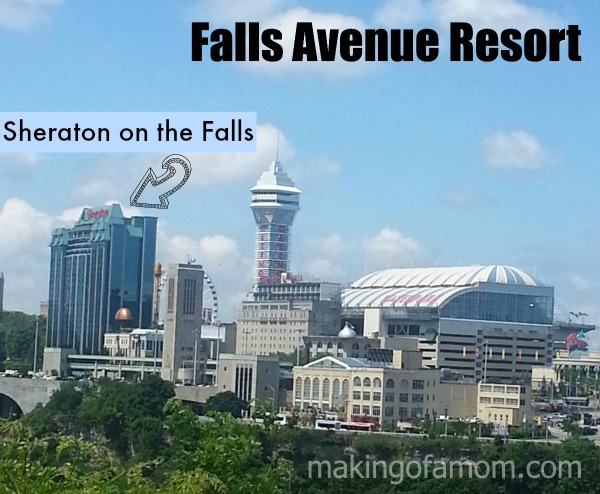 After our amazing time in Hershey, PA, we loaded up and headed to Niagara Falls. My husband had visited the falls when he was younger, but this was the first trip for the rest of us. I was very excited! I have always thought Niagara Falls were so beautiful, but because of their size, part of me didn't really believe it. I definitely needed to see it myself. When we were getting closer I had decided that we were going to do some activities on the US side before crossing the border into Canada.  First, we hit the Aquarium at Niagara, then we drove down the road to Niagara Falls State Park. On the US side you don't have the best view of the falls but you are able to get VERY close to them (think WET!). I completely recommend you make this stop as well. It costs $10 to park. This is also where you buy your Cave of the Winds ticket and get in line for that attraction.
After spending a while getting soaked and being overwhelmed with the amazement of so much water rushing by us, we headed for a little walk along the river to get a closer look at Bridal Veil Falls and American Falls. After carrying our stroller down several stairs (probably about 50) we were able to walk around near Bridal Veil Falls and American Falls. Here you are very close as well, but you don't get wet. This is when we also noticed how close our hotel (Sheraton on the Falls) was the to the water and we were very excited to check out what view we would have from our room.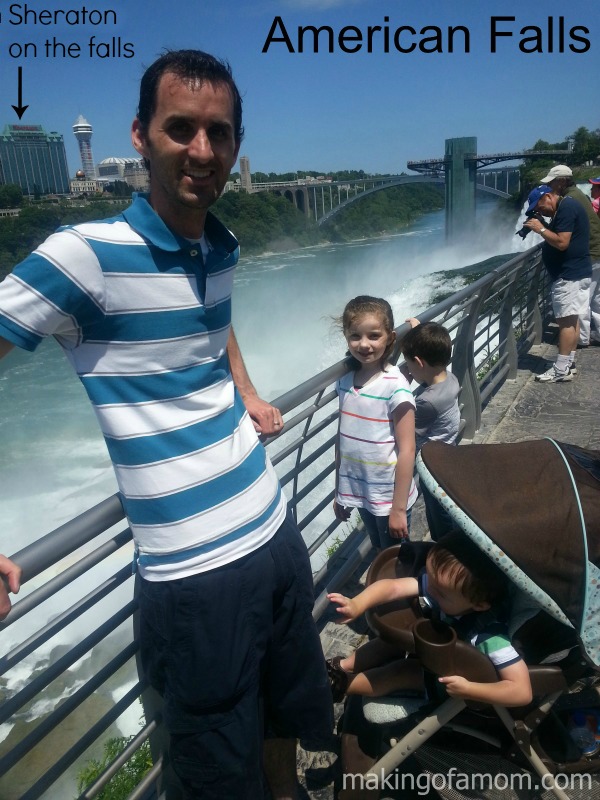 We stayed at the Niagara Falls State Park for about an hour (I could have stayed a lot longer, but the kids were less impressed with everything) so we hopped in the car and started our journey into Canada. I was excited for my two youngest kids to go into Canada for the first time! After waiting in a very long line, I'm sure we had the slowest border agent out of all of them (safety first!) we were finally in. The Sheraton on the Falls is very close to the border. We were able to get there within a couple of minutes of entering Canada. We pulled into the short-term parking next to the hotel so I could check in. They had my reservation and all the details of my trip waiting. The service was prompt and efficient. I opted for self parking, but after the horrible time we had lugging our luggage to our room from the self parking lot (which is a block or two away from the hotel, though connected by a walkway) I should have just sprung for Valet and let them bring in my luggage too! Valet parking is $35 and self parking is $20.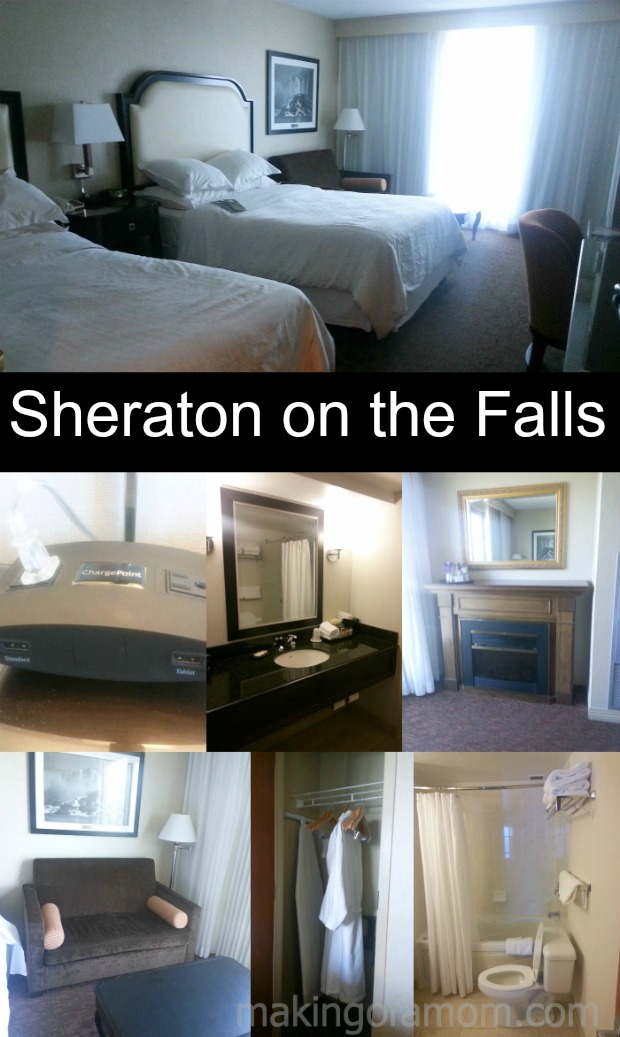 When we got up to the 17th floor we were excited to find our room. Our beautiful room was tucked away in a little private hallway. I took pictures as soon as we entered because the kids were anxious to put their stuff down and get settled. The room was on the small side for 5 people, but would have been perfect for a romantic trip with just my hubby.
This room had a useful piece of technology that spoke to the blogger in me. There was a charge port on the night stand with traditional outlets and usb plugs. I got to charging right away!
I loved that there was a sitting area and fireplace next to the AH.MAZING view. Seriously, nothing in the room even mattered once I opened the curtains and the view of the falls came flooding into our room. Check it: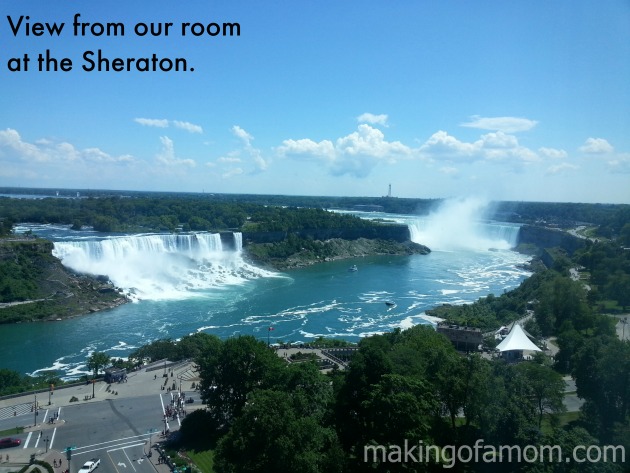 Breathtaking.
I planted myself on the couch to watch the view while my hubby made another trip to the car for more luggage and the kids got in their swimming suits to head to Fallsview Indoor Waterpark.
I did not want to leave that view. BUT since we had been driving for a while, and this was vacation I suited up and we headed to the waterpark. We also enjoyed a lovely dinner at the Rainforest Cafe near the hotel as well.
While we are talking about these other places we were visiting, I wanted to mention that the whole area is called Falls Avenue Resort and includes several hotels, including the Sheraton, the waterpark, several restaurants, an arcade and more. Everything is connected by a walkway so you don't have to leave the property while enjoying all of the amenities.
Once we were finished with all of the extra activities we headed back to our room. It was still light so we could enjoy the natural looking falls, but I was also excited to see them light up. At night when it is dark the falls are lit with different colored lights. On the weekends throughout the summer there are also fireworks over the falls.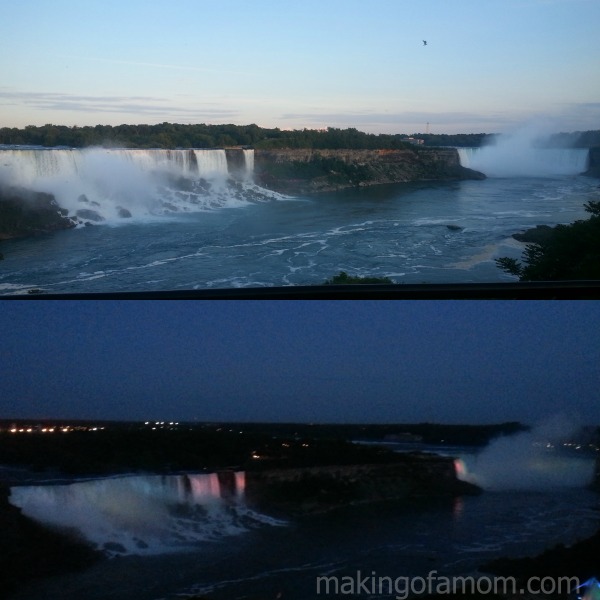 It was simply gorgeous. Just amazing.
While the rest of my family snuggled in bed and watched a little TV, I sat on the couch taking in all of my surrounding. We only stayed one night in Niagara Falls and so I needed to watch it, experience it and remember all of it since we would soon be leaving.
Niagara Falls is one of the wonders of the world, and it's easy to see why. What a gorgeous natural wonder. What a beautiful hotel to be in such a prime location. Falls view rooms at the Sheraton are more expensive than the city view rooms, but look at that. It's amazing. It's worth it. To experience the falls up close and then go relax in my hotel room with an even more amazing view is so worth it. There is no point to having a hotel room that doesn't offer what you came for. You go to Niagara Falls to see the falls, invite them into your room at the Sheraton on the Falls.