Disclosure: I received free tickets to visit the waterpark for review purposes. All experiences and opinions are my own. Yours may differ.
My family and I have been to many waterparks. I kind of consider myself a waterpark snob because some waterparks are great for families and children, and others are just horrible. Whether it is how the rides are laid out, or what types of rides there are, it can really make or break a park for families.
The Fallsview Indoor Waterpark is one of the BEST waterparks we have ever been to with 3 acres of watery fun. This clever waterpark is situated on top of the parking garage for the Falls Avenue Resort properties.
The flooring of the waterpark is a cushy foam so it is really nice to walk on and not slippery at all! I LOVE that, big WIN for the waterpark.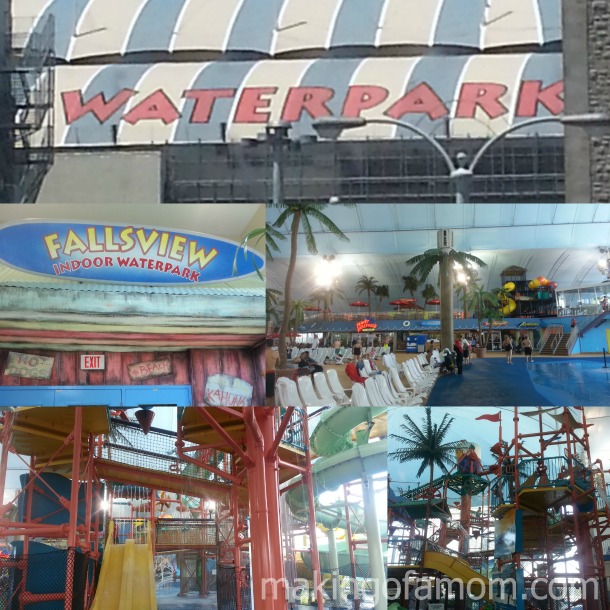 When you first walk into the waterpark there is a booth where you can check out life jackets for your little ones. They are FREE. We got all our kids a life jacket just in case they wanted one at some point.
There is plenty of seating in the waterpark. Claim some pool chairs and get ready to have some fun. If you aren't comfortable leaving your things out on a chair there are lockers available to rent.
Let me walk through the park with you from left to right. There is an awesome kids play place on the left side of the park. This huge play structure has a lot of fun things in it. There are places to dump buckets of water on unsuspecting people standing under the buckets, water guns, water slides and more! This structure is really big and easily accommodates tons of kids. There are also about 5 slides coming out of the structure so plenty of rides for the kids.
Behind this play structure is a splash pad for the little swimmers. This perfect play area for infants, crawling babies and walking toddlers. There are splashes and spouts and tiny slides in a compact area that is easy for parents to monitor. My 18 month old loved this area.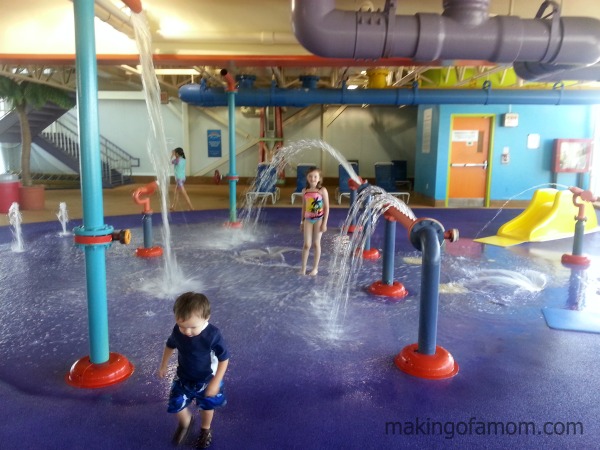 In the center of the park is a couple spas and the wave pool. This zero entry pool is a fun place for families. Babies can sit on the outside edge and splash in the shallow water, or you can get into the deep end (which still is only about 5 feet deep) and enjoy some big waves. My family spent a lot of time in the wave pool. It is one of my kids' favorite things to do at a waterpark.
If you head outdoors there is a sun deck and an outdoor pool. We didn't go outside, so we didn't get to try out that pool.
On the right side of the waterpark is what I will call the "slide tower". There is a big tower to climb with tons of slides coming out. There are slides that you ride alone, slides that require a mat to slide on and others that require a tube. These slides were so much fun! Since there are so many slides the lines weren't ever too long and we were able to go on slide after slide very quickly! It was so much fun.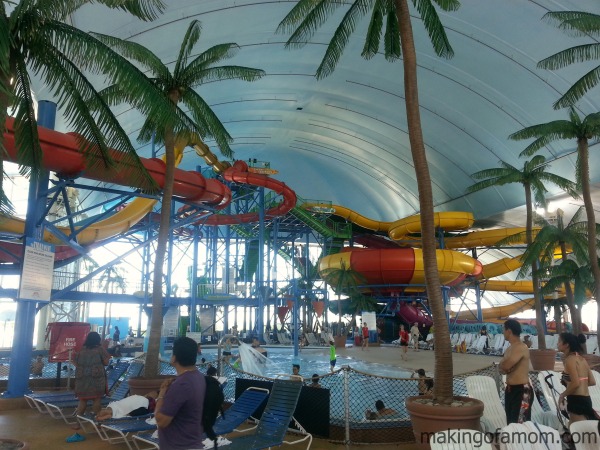 I know visiting a waterpark might seem a little odd when you are in Niagara Falls to see the falls, but this was a very fun stop and one I'm so glad we did. My kids had so much fun, we created some fantastic family memories and this waterpark will remain on my recommended list and my "to do again someday" list.
I love, love, love that the waterpark and our hotel, Sheraton on the Falls, were all combined into this fun resort. It made getting around so easy. Since everything was connected we got our waterpark wristbands at our hotel. At the waterpark we used our room number to check out the life jackets. Since it is all connect, it is all so easy!