Disclosure: Though I received a product sample and compensation, all opinions are my own. Yours may differ.

www.Oubly.com is an online stationary boutique dedicated to quality products. Proof of this quality is found in the product and packaging. I love the unique Oubly branded packaging they sent along with my business cards. They sent a sturdy box to hold my business cards as well as a box to hold business cards I receive. Both of these "extras" are very useful to me as conference season is about to begin for me and I need to get organized with my business cards.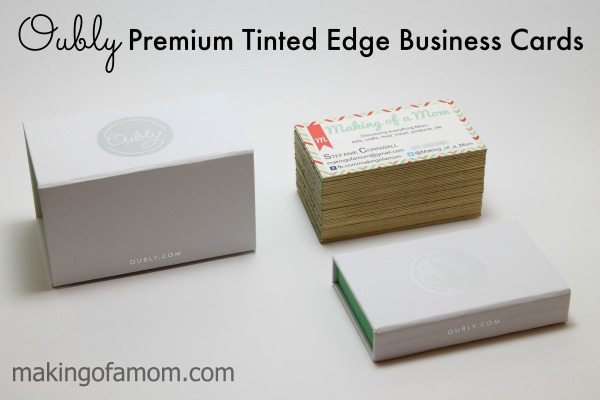 Oubly offers some unique options when it comes to business cards. I received 100 edge painted business cards printed on 36 point super deluxe eco-paper. Not only do these premium business cards look amazing, Oubly can make these cards for a lot less than the competition.  These cards leave a strong first impression. When I first pulled one out of the box and looked at it, ti was amazing. These cards are going to be my blog and me noticed. They stick out in a crowd. They are unique for all the right reasons. When you choose the super deluxe paper option you can tint the edges of your business cards in a variety of colors.
Oubly has some great offers I want to share with you. Starting April 1st you will now receive a free gift with orders over $40. Also, on Wednesday's receive free shipping.
If you aren't in need of business cards, have no fear. Oubly still can serve you. They make announcements (wedding, baby, etc) holiday cards, special occasion cards, invitations, stationary, etc. Really any occasion you have that requires a card, Oubly is here to help.
Oubly is also a great company because they are working for the person, not the business. One way the accentuate this is by providing smaller quantities. I know I am not some huge business that needs 500 of anything. Oubly offers small quantity starts at 10. I love that! They also are dedicated to helping Non-Profits. I'm all about supporting a company that is giving back where they can.
Oubly is a social company so you can like Oubly on Facebook, follow Oubly on Twitter, Chat on Google + or check out their lovely pictures on Pinterest.
GIVEAWAY TIME
Now that you love Oubly as much as I do, you will be excited to learn they are giving 3 lucky winners a $30 Gift Code to shop on their site.
Giveaway Details
This giveaway will run from April 22 through April 29. This giveaway is open to US residents (lower 48) ages 18+. Winner will be verified, emailed and have 48 hours to respond before a new winner is chosen. Participating bloggers are not responsible for prize fulfillment. Unless notified in writing, Oubly.com reserves the right to use the client's printed images for advertising purposes. We may take pictures of printed orders or write articles about the printed piece and distribute the images or articles through social media channels, blog networks, showcase the printed pieces in other advertising channels, and Oubly.com's web pages.