Disclosure: I received free product samples for review purposes for my Holiday Gift Guide. All experiences and opinions are my own. Yours may differ.

I am a huge fan of personalized gifts. I always try to do personalized gifts for my daughter's school teacher. I think it is fun to take an ordinary product such as a t-shirt, bag, ruler, clock, whatever it might be and jazz it up with a name, saying or monogram! At Zoey's Attic you can do just that. They have a HUGE variety of darling items to choose from. Their website is very user friendly and easy to browse. It is organized and categorized so you can find the exact item you are looking for with ease.
Even though we are discussing Zoey's Attic in the sense of holiday gift giving, personalized gifts are great for all occasions. My daughters birthday is at the end of October and usually ends up with a Halloween themed cake, party and/or gifts. This year will continue that tradition as I picked out a cute Trick-or-Treat bag for my daughter. Zoey's Attic was very generous and sent me a second one for my 4 year son. For him I chose the Pumpkin Tub bag – which is what he usually Trick-or-Treats with.
Now kids have these darling canvas bags, which are much bigger so they can stay out longer collecting more candy! Zoey's Attic is happy to customize the colors and wording on your items. The designs are digitally printed on the bags so they will never crack, fade or peel!
Zoey's Attic has some fantastic prices! For getting personalized gifts, the prices are amazing. These darling bags only cost $14 each.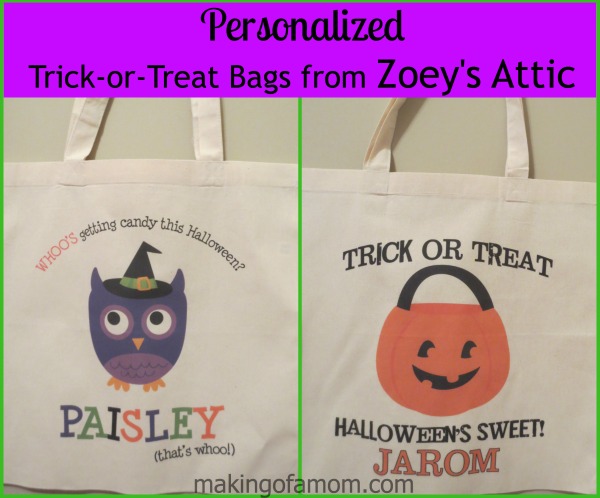 They do have items for other holidays. As I was browsing I found some cute options. Check out these darling holiday themed things:
I love it! For all fun and special occasions you have to celebrate, Zoey's Attic would love to be apart of it. Browse the site (be careful, you will get sucked in and want to spend a long time browsing!) You can also keep up with Zoey's Attic on Facebook and Follow Zoey's Attic on Twitter. Let me know if you find something you love and plan on getting. I'm interested to see your special finds!