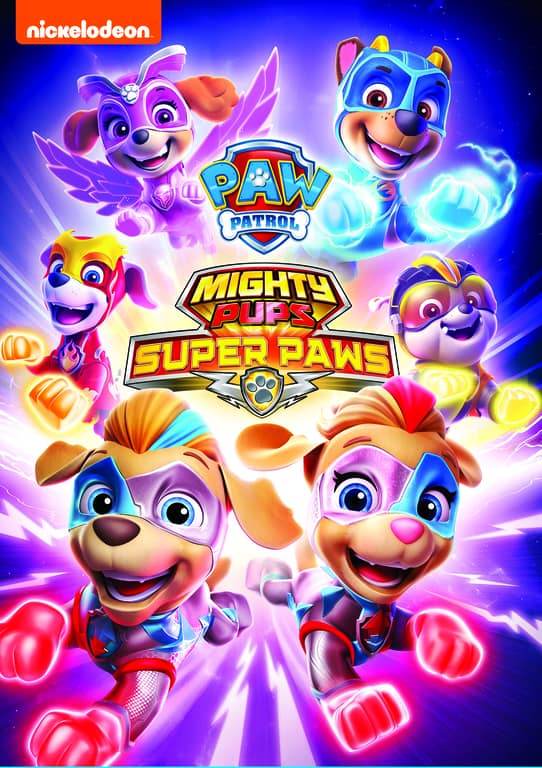 I have two kids that really love Paw Patrol. They have all the little Pup toys, many of the vehicles and some of the huge vehicle toys as well! In fact, one of my sons got these new Might Pup twins for Christmas! They are really popular at our house. My children were very excited to receive this brand new DVD this week.
The pups are ready for MORE mighty action in these six Mighty Pups Super Paws episodes, including two double missions! Havoc takes over the town as the Mayor and the Kitty Catastrophe Crew receive these new super powers, causing super problems! Then the pups and their new Mighty Twin friends save the town's treasures from a new super-bandit villian named Ladybird! It'll take the Mighty Pups and their Super Paws to stop them and restore order to Adventure Bay! Plus, everyone gets a BIG surprise when Chickaletta gets mighty powers too!
This new DVD adventure is available March 3, 2020. It includes some really fun new episodes.
MIGHTY PUPS SUPER PAWS: When Super Kitties Attack
MIGHTY PUPS SUPER PAWS: Pups Meet the Mighty Twins
MIGHTY PUPS SUPER PAWS: Pups Save a Giant Chicken
MIGHTY PUPS SUPER PAWS: Pups Stop Harold's Deep Freeze
MIGHTY PUPS SUPER PAWS: Pups and the Big Twin Trick
MIGHTY PUPS SUPER PAWS: Pups Save a Mega Mayor
I'm really excited to be giving one copy of this DVD to one lucky reader! This giveaway will run from March 1 – March 7. This giveaway is open to US residents ages 18+. The winner will be verified, emailed and have 48 hours to claim the prize. Good luck!