Agility Tablet System by Otterbox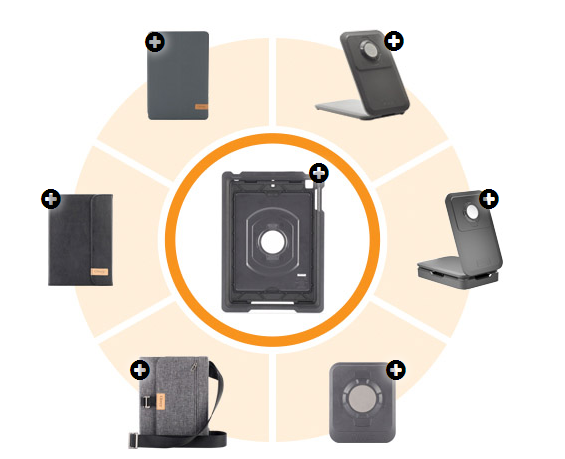 Back to School time is upon us and Otterbox has came up with the perfect solution to protect iPads!! They have a revolutionary system in place that allows the user a customized experience but it also works as a complete system to protect your technology.   The Agility Tablet System allows students as well as adults to use the tablets your way!! We all have a preferred way to work and with Otterbox on the job the Agility Tablet System is the perfect Back To School Accessory! 
The Agility Tablet System has several components but the most essential is The Shell.  It is poly-carbonate and offers a magnetic shell that works perfectly with the foundational mount, agility folios, wall mounts and of course the agility docks.  It snaps firmly into place and your tablet is safe from the bumps, drops and mishaps that are bound to happen.  
Secure your tablet in every room in just the right spot. The Wall Mount attaches to most vertical surfaces with 3M Command Strips. Create a home base for your tablet in any room with the Agility Dock. It adjusts to the perfect angle and holds your tablet in landscape and portrait views. Set the Dock on your desk, nightstand, counter — anywhere to keep your hands free to get things done.
I love that Otterbox allows you to purchase packages at three different price points to help keep us under budget.  The Agility Tablet System is available for iPad Air, iPad Mini with Retina Display, iPad 2/3/4, Galaxy Tab 3, Note 10.1,  and the Note 8.
This would be the perfect addition to any kitchen because then you can pull up recipes and cook right from your iPad! It will allow students and parents alike to use their iPad with ease and allow for the Otterbox protection we have grown to love.  Be sure to protect all of your electronic devices with products from Otterbox because the cost of a case is much cheaper than replacing electronics!!
Be sure to check out Otterbox on their website, Facebook, Twitter and YouTube!!  Be sure you get entered for your chance to win your own Agility Tablet System on the Rafflecopter below!  Giveaway ends August 31 at midnight! Good luck!!