For the past week my family and I have been having a BLAST playing with the Original Perplexus! This maze ball is so much fun (and frustrating)! This award winning toy comes in 3 varieties: The Perplexus Original, Perplexus Rookie, and Perplexus Epic.
The Perplexus Original is perfect for people age 6 and up and features 100 challenging barriers. I have been practicing a lot this week and so far I can't get past 44!
My 6 year old daughter has had so much fun playing with the maze ball. She doesn't get frustrated too easily so when the marble falls off the track she just starts again! She really concentrates hard while playing. She really is trying to get as far as I do. She has great determination!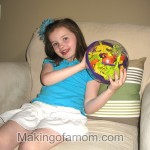 This is the face she makes when the marble falls off. Very different from the face I make when it falls off! This has been a great activity for her. This definitely tests her eye and coordination. I would consider this an education toy! 🙂
My husband and I have been making this a little challenge between us. He used to be farther than I was, but I have since caught up! Challenge number 31 is tricky so we were pretty even for a while. but I have since mastered that area and have moved on! It is fun to have a little
competition going on. He doesn't get frustrated as fast as I do, so he has the upper hand here!  Look at his concentration! He doesn't make a cute face like my daughter when the marble falls of the track, it's more angry like this. hehe
The Perplexus comes with a stand so if you can't quite finished the run you are on you can carefully set it down and save it for later (although you better store it high so the kids don't grab it). It is also just a great place to set it in between playing with it, just to make sure it stays safe.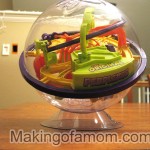 This week we will be giving one lucky winner their own Perlexus Original! This giveaway is open to US (excluding Hawaii and Alaska) and Canada. The giveaway will run from May 11 through May 21. To enter please complete the rafflecopter entry form. In this giveaway there are mandatory entries you must complete first in order to unlock other entries. Remember the rafflecopter takes a minute to load.