Disclaimer: I received this product free for review purposes. No other compensation was given.  All experiences and opinions are my own. Your experience may differ. If you click on any links in this post you will be taken to the sponsor's site.
I don't know about you, and your experience with your kids, but for us age 3 has been killer! WAY harder than the "terrible two's." We are currently living this right now with my 3 year old son. He feels the need to test every rule, boundary, limit…. basically everything that can be tested is being tested. It also got worse with the arrival of the baby 4 months ago and we have not quite recovered.
Since he is struggling in a few areas I reached out to The Victoria Chart Company. The Victoria Chart Company was founded by a Mom (Victoria) who discovered a great reward system that worked wonderfully on her own children and wanted to share it with other parents. These charts build self esteem as children watch their progress! We are going to be using My Big Star Chart for my son. This chart is geared towards children 1+ and includes smiley face stickers for good behavior and gold stars for exceptional behavior.
Together we picked out what behaviors we want him to work on. The chart comes with 8 pre-written stickers as well as 8 blank so you can customize any behavior modification you would like. Here are the items we decided to work on:
I've eaten my food
I shared nicely
I've been good at bedtime
I used my potty
I've spoken nicely
I picked up my toys
I was obedient and listened
I used my words (instead of a tantrum)
We hung the chart in the kitchen where every one can see it. It is also at his level so he can put all his own stickers on it. It is amazing how fast he learned what each sticker means because he is able to discuss each one with me. Also, when he earns a sticker he knows right where to put it.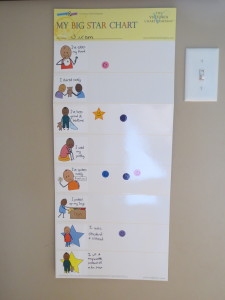 This is after 4 days of using the chart. We don't always remember to reward with a sticker, so we are working on making it part of normal daily living, but he is doing good. You can tell which items are easier for him than others. Sometimes before he does an action he says "I'm going to say thank you so I can get a sticker." hehe Smarty pants! There are still a couple things on the chart that are harder for him to comply with, so we will keep at it! He really wants to earn gold stars, but it is hard for him so hopefully we will just keep at it!
My 7 year old now wants to have her own chart (and I think she needs one for some things) so we have made her a little make shift chart for her to earn stickers that will lead to a bigger reward.
I'm loving the knowledge The Victoria Chart Company has given me and the help it is giving with my kids!! A BIG Thanks to them for letting me review this chart!
BUY IT
You can purchase your own chart with a special discount code! Enter code VCHART15 for 15% off your purchase!
WIN IT
Now for the great news… The Victoria Chart Company is going to give one of my readers their own My Big Star Chart!! Enter through the rafflecopter below! The giveaway is open to US residents 18+. The giveaway will run from May 10th through the 24th. The winner will be verified and emailed. Good luck!