Disclosure: I received a free product sample for review purposes. All experiences and opinions are my own. Yours may differ.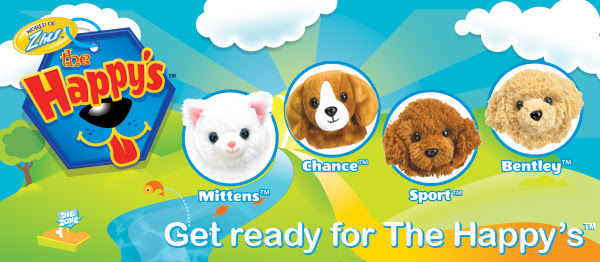 With three kids at different ages we have a lot of toys in our house but rarely does one toy entertain all three kids. Well, meet The Happy's from Cephia, the makers of Zhu Zhu Pets. These cuddly pets are toys that your kids will love!
We received Sport, a very cute puppy and a ball for him to enjoy. A simple inserting of batteries in the ball and puppy we were ready to go. The puppy barks and zips around a hard surface. Included with the pet is a "Happy Treat". This clever accessory gives off a signal to call the dog to come to you, you can make the dog sit up, pounce, follow you, or you can also use it to make the dog spin in circles. Want to learn how to do the Happy dance? Check out this instructional video.
The Happy's also have other accessories sold separately from the pet. There is a ball, skateboard and car. We received the ball. Sport, our puppy, loves his ball. When the ball is switched on it gives off a signal to the puppy to come play with it. He runs in circles with the ball and even climbs up on it to push it along.
Although my baby isn't yet the recommended age of 4+ to play with the dog, I just keep an eye on him while he is playing with the toy. He mostly loves the ball. The funny thing is when the ball is switched on and he is playing with it, the puppy wants it and so he keeps trying to get the ball and my baby keeps pushing him away. It is really cute. He does like the puppy too, though.
My husband and I are not a fan of real animals so we LOVE The Happy's. We will never own a real dog or cat so this puppy from The Happy's is as close to a real pet as they will get. I love that they are interactive and my kids can feel like they are playing with a real puppy. I also really love to have a toy all three of them can enjoy together.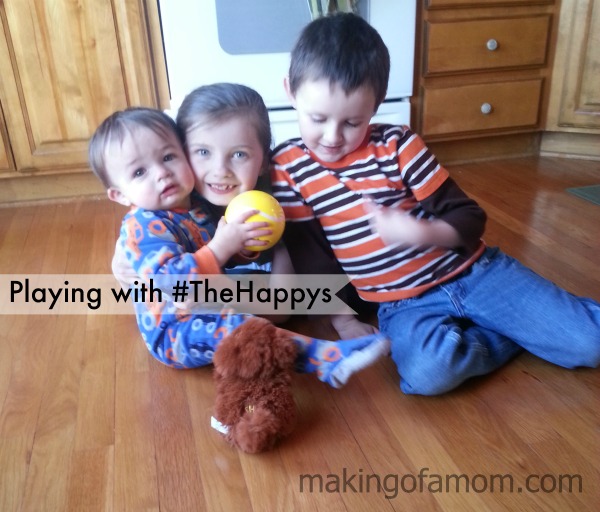 Would you like to have your own pet from The Happy's? Enter to win one now! Making of a Mom is not responsible for prize shipment. 
Giveaway will run through April 4. Giveaway open to US residents ages 18+. Winner will be verified, emailed and have 48 hours to respond. Good luck!