Kinsights is an online Pediatric Personal Health Record Keeper for parents. Gone are the days where you're being held responsible for keeping track of slips of paper or lugging files and folders containing your children's health information.  And in the event of an emergency, you can even have the health records sent to the ER or out-of-town doctor in a snap. Organize your child's growth and developmental milestones, immunizations, medications, allergies, and more.  This tool is amazing and a godsend to parents. Kinsights is also a community where parents can safely seek and share answers to parenting questions.  You can ask anything and Kinsights will find the right community members who can provide guidance.  Kinsights even offers groups with similar interests their own pages, including single parents, grandparents, those interested in car seat safety, baby & kids fashion, potty training groups, and many more  What's really cool about this community is that it makes finding the best answers easy-community members vote up answers so the best content rises to the top.
You can also use Kinsights to:
Keep track of your child's health records in one convenient place by organizing immunizations, medication lists, allergies, medical conditions and more.
Earn shopping "perks" by answering questions, reviewing products or inviting your friends to join. (Check out the perks I've earned below)
Browse product reviews and recommendations based on your interests and your children's ages and stages.
Join groups and connect with "Kinsighters" in your geographical area. I've joined a few for new parents and love the discussions so far.
I recently signed up for a free account with Kinsights and it was quick and easy! I entered my information, including a profile picture and then entered in Liam's information after mine and then the site did the rest. I was given the opportunity to follow topics that I am interested in like "postpartum" "babies" "parenting" and more! One important note is that the information I entered for my children is completely private and for my tracking purposes only.
The health record section makes it easy to keep track of your child's history! You can track immunizations,  issues, measurements, etc. (The image below is a sample).
In addition to the health record, Kinsights also alerts you of developmental milestones that you can anticipate your child reaching soon! Then, you just click on it to say that it has been achieved– pretty cool! Here's an example: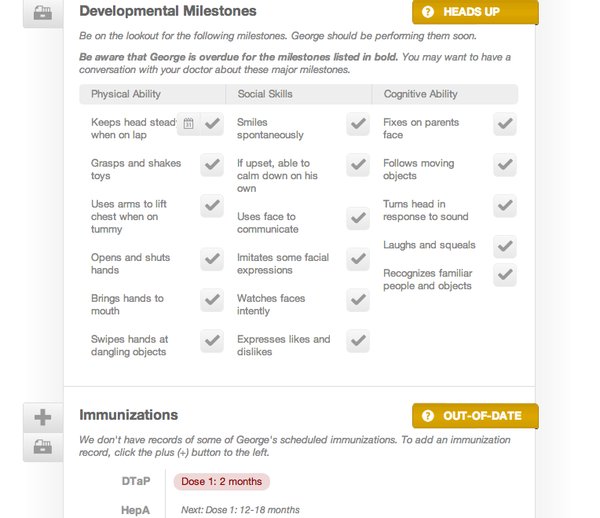 You can even earn perks just for signing up — as I am a new member, here are the Level 1 perks. When I get more involved with interaction on the site, I'll move up to the next level and earn more perks!
Give Kinsights a try and I think you'll enjoy it! Kinsights sent a gift card to me as a thank you for spreading the word on my blog, and they are going to give one of my readers a gift card, too. You can enter to win a $100 Amazon gift card using the Rafflecopter form below. There's a bonus entry for signing up for a FREE account with Kinsights, be sure to enter that one!!
I have the awesome opportunity to give ONE This N That with Olivia reader a $100 Amazon Gift Card. To enter, simply complete the entries on the Rafflecopter below! No purchase necessary to enter. The winner will be selected randomly and will be notified via email. The winner will have 24 hours to respond or the prize will be forfeited. The giveaway is open to the Continental US only who are 18+. The giveaway will be open from 06 October 2014 at 12:01AM EST to 20 October 2014 at 11:59PM EST. This giveaway is in no way sponsored by, endorsed, or affiliated with Facebook, Twitter, or any other social media. It is against Twitters rules to use multiple accounts or create new accounts to increase your chances of winning; therefore, you may use only ONE Twitter account to enter this giveaway. Anyone found using multiple Twitter accounts to increase their chances of winning will be disqualified. The participating blogs are not responsible for prize fulfillment.