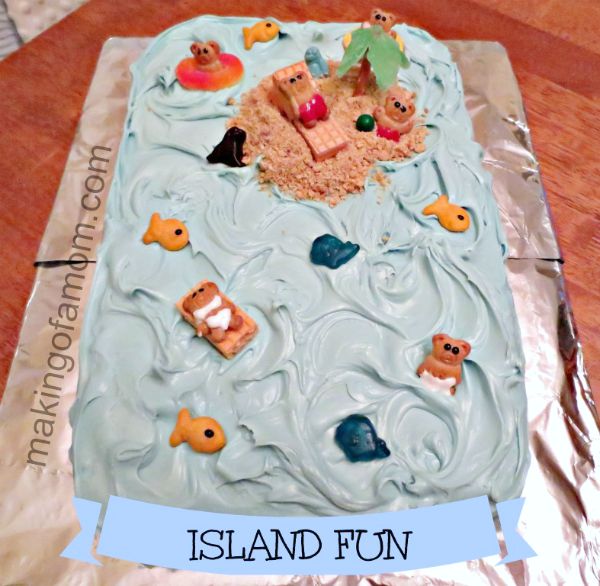 Can you tell we are getting in the mood for summer around here? This cute
Island Fun cake
is very simple to recreate! I used a cake mix, but you could easily make the
Chocolate
,
White
, or
Yellow Butter Cake
recipes I have shared. This is pretty straight forward, but here are the directions in case you need them.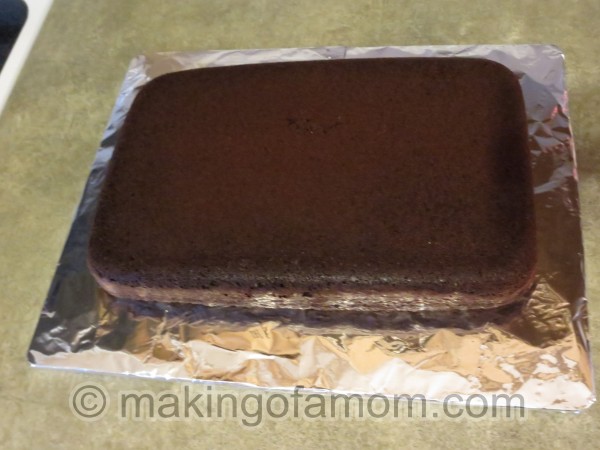 INSTRUCTIONS
1 13×9 cake
1 14×10 inch cake board, covered (I used a cutting board covered in foil)
1 16 oz Container white frosting
1 1/2 cups graham cracker crumbs
6 green gumdrop
1 pretzel rod broken in half
small bear shaped graham crackers cookies
assorted decorator gels
assorted candies (peach rings, gummy whales, seals) and goldfish crackers
Place cake on prepared board. Tint frosting blue.  Frost entire cake. Spoon graham cracker crumbs onto frosting to resemble desert island.
Flatten gumdrops with rolling pin on a sheet of waxed paper sprinkled with sugar. Roll until very thin. Cut each gumdrop into leaf shape with knife. Place pretzel rod half in center of island. Carefully attach leaves to top with frosting, or by squishing together to form a palm tree.

Decorate with bear shaped cookies with decorator gels. Arrange bear shaped cookies, candies and graham crackers on cake as desired.