Going for a manicure or pedicure is one of the many things that are so much fun as a woman. However the price can be SO daunting and with just polish, they don't even last long! The great thing about Jamberry Nail Wraps, is that they make up for the price of a salon trip and they last so much longer! No chipping, no pealing, no dry time!
These wraps are so wonderful, especially for busy moms that are always on the go! The manicures last up to two weeks, possibly longer if your nails don't grow very fast and the pedicures can last up to 6 weeks! They are bank account friendly (Regular wraps and junior wraps are $15. Sorority and College wraps are $17.50, check out the college wraps here), and you get 2 manicures and 2 pedicures with some leftover out of each sheet. That totally beats the price of going to a nail salon, and the longevity and durability of the nail wraps, totally beats painting our nails with just polish that will chip and peel away fast!
The wraps themselves are pressure and heat activated which will create an air/water tight seal to keep the wrap on and looking great! These wraps are made in the USA, Gluten free, and Vegan. There are over 300 designs to choose from! So for busy moms taking care of children, taking care of the home and even working outside of the home, there are styles and options for everyone!
There is also a line of nail lacquers that are high quality and are 5-free with no Dibutyl Phthalate (DBP), Toluene, Formaldehyde, Formaldehyde resin, or camphor. So you can trust and feel safe that what you are putting on your nails is not harming you in any way. The lacquers come in so many colors that match the wraps or go great by themselves!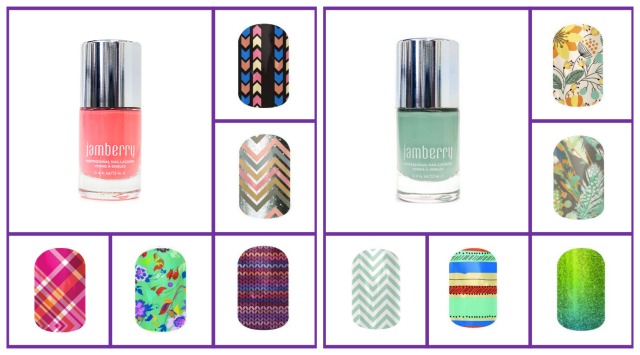 Don't forget the wraps are always Buy 3 get 1 free! You can get up to 4 wraps for 45 dollars which is the price of just one manicure at the salon! But you would be getting at least 8 manicures and 8 pedicures with leftovers for accent nails or mixing and matching with your other favorite wraps!
If you enjoy being festive for the holidays, there are wraps that have you covered there too!
If you are loving these wraps then please like my page on facebook! You can also see all the designed available on my website and purchase the ones you love! Book a party Facebook party with me in September or October and get a prize as well! You'll enter the holidays with fabulous looking nails!
Enter to win a sheet of Jamberry Nail Wraps! Giveaway will run from September 11 – September 19. Giveaway open to US residents ages 18+. Winner will be verified, emailed and have 48 hours to respond before a new winner is chosen. Good luck!