I recently attended a blogging conference (iRetreat) in Hershey, PA. I decided since the location was so much fun that we would make this a big family vacation! Well hold on to your hat folks, because you are about to get a whirlwind series of blog posts all about this trip and the amazing things you can do while in Hershey, PA.
First up on this virtual tour of Hershey is telling you all about Hershey Lodge. Now this is definitely not the cheapest option in Hershey, PA but it might very well be the nicest and have the most amenities! In addition to being so amazing, you also will receive free tickets to Hershey Gardens, the Hershey Museum and you can purchase discounted tickets to Hershey Park.
The fun at Hershey Lodge begins before you even enter the front doors. While we were walking in from parking our car we noticed a height measuring station in terms of chocolate! We had to get all measured up. (Coincidentally, this is the way Hershey Park measures children for the different rides as well)
I happened to have one miniature, one Reese's Cup and a Hershey Bar on my hands! After doing this the baby would walk up to every measuring station he saw and stand on it. It was pretty cute. I also want to mention in this same location is where guests of the Lodge catch the free shuttle to Hershey Park and Hershey Chocolate World, though the shuttle doesn't seem to have any sort of consistent schedule.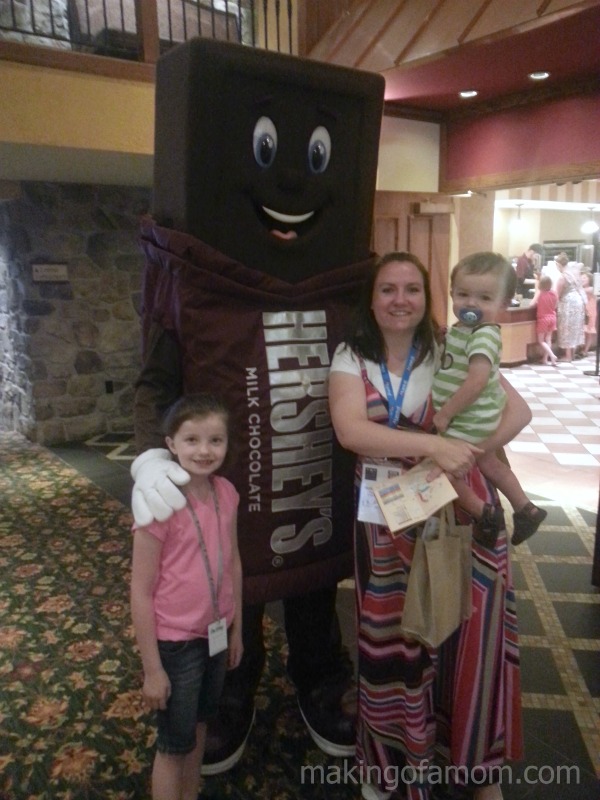 Hershey Lodge is completely kid friendly. While the adults are checking into the hotel, a simultaneous kids check in is also going on. Here the kids will make a lanyard with their name on it, they will also have the chance to meet some of the chocolately characters you will spot around the lodge. Don't forget to pick you your schedule of children activities. There is a lot of daily fun just for the kids from swimming, miniature golf, crafts, activities such as making S'mores, playing in the Wii room and so much more! No one will ever complain of "boredom" in Hershey Lodge!
The rooms at Hershey Lodge are spacious, clean and comfortable. I wasn't expecting them to put our a pack and play for my baby, but there was one set up with all the sheets and everything we would need as soon as we walked in. It was nice that they went above and beyond for my family. The Lodge grounds are HUGE! Each floor of each building is a different kind of Hershey's candy. We were on the Hershey Kiss floor so everyday after they cleaned our room they would leave kisses behind. It was very fun.
You could see the "Hershey" in the smallest details at the lodge. Check out the wallpaper in the bathroom in the bottom right picture above. Also, on the comforters of the beds were lightly embroidered Hershey Kisses, the toiletries in the bathroom were infused with Cocoa, it was all pretty amazing. Even though the lodge is expensive, I'd say it is completely worth the experience it provides.
Hershey Lodge seriously has everything you need including several restaurant options! There is the Cocoa Beanery which is a great cafe. The Bears' Den, which has a fun sports theme and yummy food. We had lunch there on our last day and it was very good with great kid food options. There is also Ripples, Lebbie Lebkicher's, The Forebay and Hershey Grill.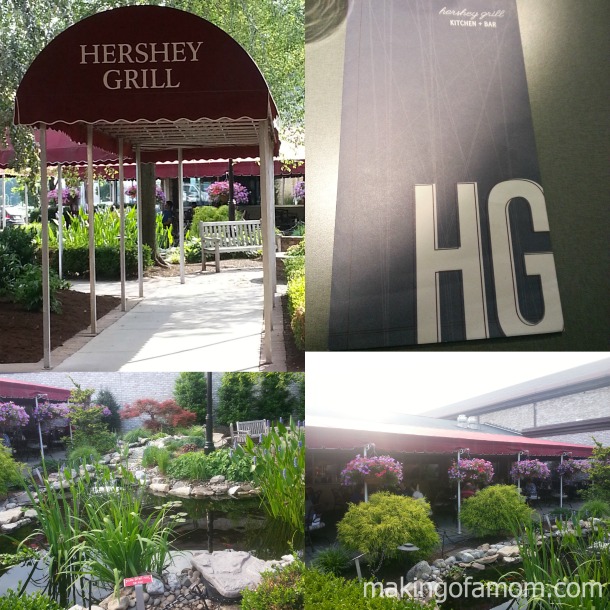 During my time in Hershey I was able to work with Hershey Entertainment on some reviews. They treated my family to dinner at the Hershey Grill. This is definitely an upscale restaurant, and the prices reflect that. It also has more "adult" tastes as we put it in our home. Get ready for the longest food picture I have ever put on my site, but I wanted you to see up close all of the great food we were able to have.
The restaurant is in such a beautiful location as you can see above. There is a lovely little waterfall and pond as you walk until the awning to the restaurant. The restaurant has indoor and patio seating which is really nice on warm days. The decor is modern and sleek. The service was great. The waiter we had knew all about the food options, the specials and could answer all our questions. Even though the menu is made up of very "adult" food the kids menu was perfect for our children. You can't go wrong with pasta and pizza!
My husband has the meatloaf dinner complete with garlic mashed potatoes, gravy and a biscuit. I had the grilled salmon  with cucumber-cilantro salad and orange-sesame jasmine rice. You can check out the Hershey Grill dinner menu here.
If you are planning on traveling to Hershey I would definitely consider staying in Hershey Lodge. With so many amenities and it being so family friendly it is the perfect complement to the Hershey experience. I'm so happy we were able to stay there and create these wonderful family memories in such a beautiful location.