Disclosure: I was provided tickets to experience some of the attractions at Hershey's Chocolate World. All experiences and opinions are my own. Yours may differ.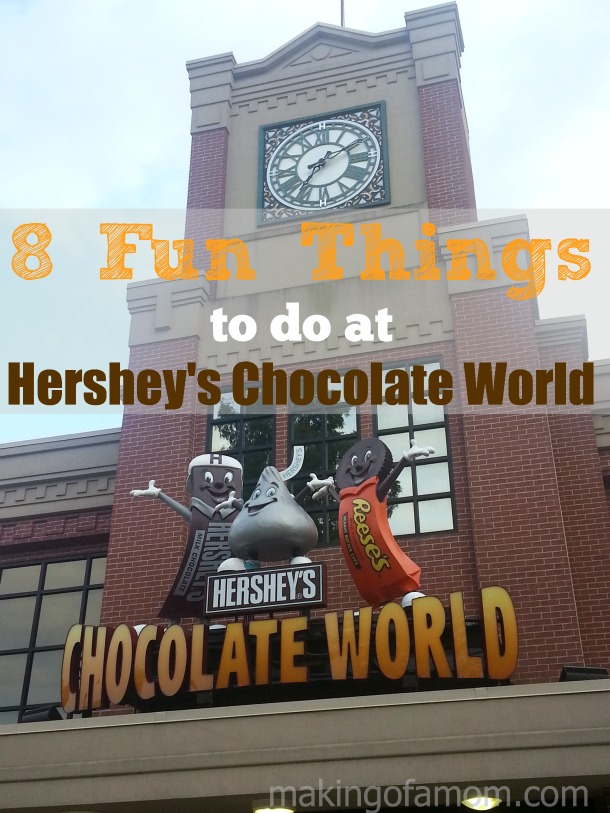 Down the road from the
Hershey Lodge
is
Hershey's Chocolate World
! Get excited because this place in amazing! When you walk in prepare to be amazed at the size of this place and all of the fun waiting for you! If you are looking for a fun free stop, there is a fun FREE ride in this place, as well as amazing paid things to do! So, here is my list of the
8 fun things to do at Hershey's Chocolate World:
Hershey's Great American Chocolate Tour: This free ride is so fun for the whole family. Hop in a car and prepare to learn how your favorite chocolate is made. This ride takes you on a step by step process of making chocolate in the Hershey's factory. It is interesting and fun. My favorite part is the singing cows – now you definitely want to go, huh? Don't forget your free sample on your way out!
Hershey Trolley Works: If you want to continue your chocolate education, hop aboard the Hershey Trolley to take an educational ride into the history of Hershey. This hour-long ride is full of fun and chocolate, of course!
Create Your Own Candy Bar: Do you want to see the chocolate making process up close and personal? Then you definitely need to create your own candy bar.
After you suit up in an apron and hair net, you get to go into a room and design your candy bar. You have a choice of a milk, white or dark chocolate base. Then you can choose 3 add ins. Our options were crisp rice, chocolate chips, chocolate cookie bites, butterscotch chips, toffee chips and white chocolate chips. You can also top your candy bar with sprinkles if you want!
Since I'm not an instagram expert you will need to turn your head to enjoy this video but it is really cool. I took little snippets of our chocolate going through the process.
4.  
Hershey's Dessert Creation Studio
:  If, by this point, you need a delicious snack break, head upstairs to the Dessert Creation Studio. This is an amazing place!
In the dessert creation studio you take your creativity and combine it with a love of treats to create some amazingly delicious desserts! Behind a glass counter you will see the many tasty, bare dessert options you can choose. I'll tell you about the things we chose. My son chose to get the
fondue
. His plate included white and milk chocolate for dipping. There were also pretzels, graham crackers, marshmallows, rice crispy treats, brownie bites and strawberries. His was my favorite of everything my family got, it was so good. The chocolate was amazing and combined with the treat it was incredible! I got the
hot chocolate
, it came with a chocolate dipped spoon for stirring, marshmallows and white chocolate flakes. My husband got the
ice cream sundae
. He was able to head over to the topping bar and load up his two big scoops of ice cream. My daughter got the
dessert pizza
. She topped it with chocolate sauce, white chocolate flakes, twizzler bites and chocolate chips. My baby got the
cookie
which could also be loaded up at the toppings bar, but we just had him eat it plain.
This was a very fun and very unique way to explore some Hershey's chocolate. The whole family loved sampling each others desserts. I would definitely put this on your to-do list (but make sure you had lunch first, as this will kill your appetite!)
5. Hershey's Great Chocolate Factory Mystery (4D Movie): Now that you are stuffed, it is probably a good time to sit and watch a movie. The Great Chocolate Factory Mystery is a fun adventure the whole family will love. Put on your 3D glasses and get ready to help solve this chocolatey mystery. Since this is a 4D show there will be scents and touch involved in the movie as well.
6.
Hershey's Chocolate Tasting Adventure
: If you are interested in learning about various kinds of chocolate as well as sampling some different chocolate then this is the activity for you! This educational chocolate class is great for the whole family and at the end you will each receive a Master Degree in chocolate tasting!
7. Food Court: There are a lot of quick eats and tasty treats to consume at Hershey's Chocolate World. Take a stroll around the food court and find something that fits your tastes. There are also some incredible desserts to try in the Hershey's Bake Shop. You will definitely not leave Hershey's Chocolate World hungry!
8. Shopping: If there ever was a time to get a souvenir, this is it! Hershey's Chocolate World is FILLED with amazing Hershey's products for you to buy. There are plush Hershey's candy, pillows with the names of different candies, piggy banks, ornaments, key chains, jewelry, CANDY, collectables and so much more. There are things you didn't even know existed to be purchased there.
Hershey's Chocolate World is a MUST on your stop in Hershey, Pennsylvania. I would plan one full day to do all there is to offer here, though if you are doing a lot of the eating things, you probably want to spread it between a couple of days so you won't get sick and you'll be able to really enjoy the treats. My whole family loved Hershey's Chocolate World so much and we can't get those singing cows out of my head!
What help planning your trips to Hershey, PA? I have a lot of tips and fun activities you can research in my Hershey section.