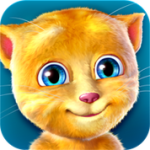 Talking Ginger is a cute little kitty turning 5! He and his friends have their own apps with interactive toys! To celebrate his birthday, his friends are throwing him a huge virtual party, and you are invited to join the fun.
Take a look at a great website called Talking Ginger's Playground where you can see a trailer about Talking Gingers Birthday app that will be out in late April. There is also an email address where you can email Ginger birthday wishes that will be
put into a drawing to win a Talking Ginger Superstar plush interactive toy! There is also a party cookbook and links to all the Talking Friends app available in the App store.
We have been playing with our Talking Ginger Superstar plush interactive toy for a couple weeks. We downloaded all of the talking friends apps that are available so Ginger could interact with all of them. It is a really fun toy! My kids love to play with Ginger and the corresponding apps. There are games,
songs, videos and lots of other fun things incorporated into the apps. One of my favorite features of the Talking Ginger app is the teeth brushing timer. In the app you canhelp Ginger brush his teeth or you can use a timer to help your kids brush their teeth along with the app and the Talking Ginger Superstar plush is encouraging them to keep going the whole time. It is a lot of fun!
My daughter sent Ginger a birthday card. Here is what she came up with:
Another fun thing is happening along with the birthday party! Talking Ginger is going to one of my readers a big box full of Talking Ginger swag! Check out all the goodies in this package: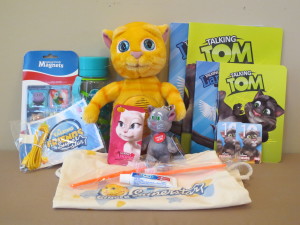 Included in the box ($150 value) is your own Talking Ginger Superstar interactive plush toy, a water bottle, magnets, notebooks, a keychain, tooth brushes, tooth paste, gift cards to the Talking Friends shop, an iPhone hard case, and 2 bags! It is a very fun box of goodies!
This giveaway will run from April 8 thru April 30. The giveaway is open to US residents ages 18+. The winner will be verified and emailed. Enter through the Rafflecopter below. Good Luck!
Disclaimer: I received the above mentioned products free of charge in exchange for my opinion and to help spread the word to celebrate Talking Ginger's Birthday.